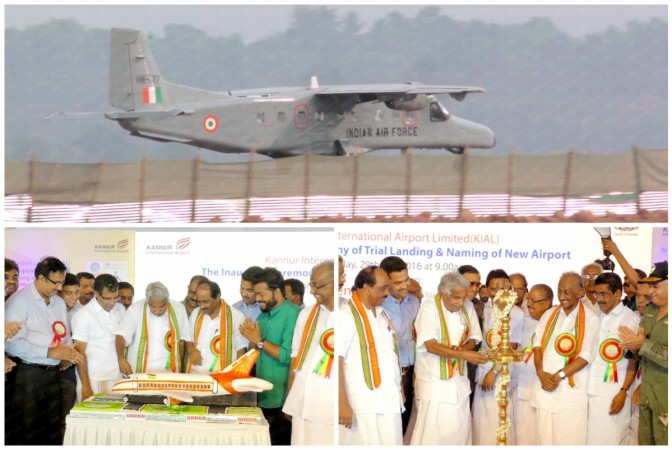 The Kannur International Airport, which is being built over 2,200 acres at Mattanur in Kannur, is set to be the fourth international airport in Kerala.
Monday, Feb. 29, was a "historical" day for Keralites as the first pilot flight Dornier 228 of the Indian Air Force from Bengaluru landed on the newly-laid runway of the Kannur airport. This is significant as the construction of a control room or terminal has not been completed yet.
The inauguration of the airport even before completion of its construction has become the hot topic of discussion for social media users, who have targeted the United Democratic Front (UDF) government with trolls and memes. Netizens have been taking a dig at the ruling government. Some said the ministers are aiming at inaugurating as many new projects before the upcoming state elections, which is slated to take place by May.
Air Marshal Raghunath Nambiar and co-pilot Vipin Maniyayi landed the 10-seater flight at 9 am Monday in the presence of Kerala Chief Minister Oommen Chandy, K Babu and other cabinet ministers, who arrived at the airport for the inauguration ceremony in Kannur. Thousands from in and around the district paid a visit to the new airport on the first day.
Once the operations begin at the Kannur airport in December, Kerala will become the only Indian state to have four international airports. The state currently has fully-operational international airports in Kochi, Thiruvananthapuram and Kozhikode.
Kannur International Airport Limited (KIAL) was converted to a public limited company in August 2010 by the Government of Kerala. The new airport will benefit the people of Kannur, Kasargod, Wayanad, Mangalore and Coorg areas.
Watch the first flight landing in Kannur here:
Check out troll messages here: