Malayalam actor Dulquer Salmaan is making his comeback to Kollywood with Kannum Kannum Kollaiyadithaal, directed by debutant Desingh Periyasamy. The actor, who was last seen in Bejoy Nambiar's Solo, has paired up with Ritu Varma of Telugu film Pelli Choopulu fame.
The movie Rakshan, Niranjani Ahathian and others in the supporting cast. Notably, maverick filmmaker Gautham Menon is doing an important character in the movie, which is being dubbed into Telugu as Kanulu Kanulanu Dochayante. The film has Masala Coffee's music, KM Bhaskaran's cinematography and Praveen Anthony's editing.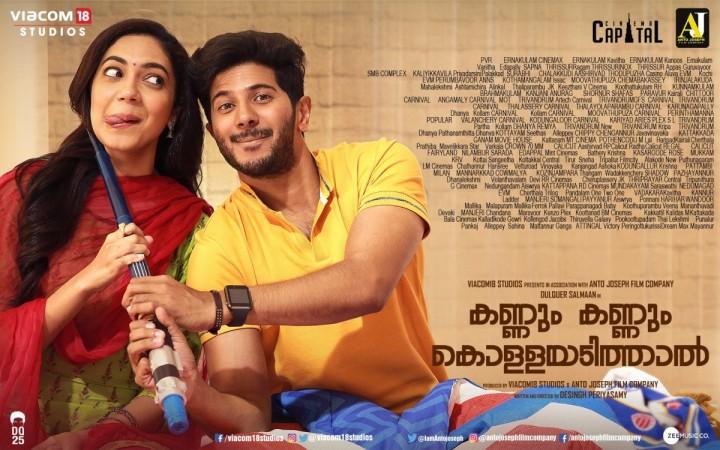 Kannum Kannum Kollaiyadithaal is a romantic thriller which revolves around Siddharth (Dulquer Salmaan) and Kaallis (Rakshan). They play the role of an app developer and animator, respectively. The hero's life gets a twist when he falls in love with Meera (Ritu Varma). The drama that opens up thereafter forms the crux of the story.
Hype:
Kannum Kannum Kollaiyadithaal movie has garnered fairly positive hype around it. Dulquer Salmaan's movies have always evoked a kind of curiosity among youths and multiplex audience. The trailer of the flick has managed to get good response, which has made the audience keep decent expectations from the film.
Will it live up to the expectations? Find it out in the viewers' words below:
Sudhir Srinivasan: #KannumKannumKollaiyadithaal is probably the most fun I have had watching a Tamil film this year. Ideologically, there are a few hiccups, but more on it later.
@menongautham is a riot, and I hope more directors lure him into the acting space.
V2Cinemas: #KannumKannumKollaiyadithaal - 3.5/5
A complete fun-filled ride with lots of thrill moments from
@dulQuer & @riturv.
Interval twist worth u Ok hand
@menongautham climax portion on Fire
@desingh_dp comes up interesting story and it's works well.
Over all - "Colorful Entertainer"
Point_Of_View: #KannumKannumKollaiyadithaal 1st half-
Starts of with a normal love story & the movie becomes gripping once it gets into the story. Gowtam Menon is the show stealer who looks like a stylish super cop. Interval block is a bangThumbs up
Nettv4u: @menongautham impresses with his stylish performance.
@RakshanVJ has got a good role to expose his talent and so does
@Niranjani_Nini. Good work @desingh_dp Thumbs up#KannumKannumKollaiyadithaal is a fantastic entertainer with thriller elements
#KannumKannumKollaiyadithaal ... As usual, the #SmartSamrat
@dulQuer impresses with his cute smile, style, dialogue delivery and body language. His costumes are good too.
@riturv is a good choice... the #PelliChoopulu girl is cute and natural in her performance.
Ramesh Bala: #KannumKannumKollaiyadithal [3.5/5]: An Excellent Con Thriller mixed with Romantic Elements..
Unpredictable Twists and Humor in the Screenplay make it an engaging and entertaining watch..
@dulQuer rocks.. He is cool as a cucumber.. His swag and screen presence are top notch..
@riturv looks great and she has convincingly portrays her character.. This movie will open more doors for her in #Kollywood
@menongautham as the Cop is terrific.. @RakshanVJ is hilarious..
@Niranjani_Nini complements the gang well..
Part Rom-com.. Part Con Thriller.. Both tracks are good..
@dulQuer is charming.. @riturv is Beautiful..
@menongautham as Police officer Ok hand
Interval twist vera level.. Exceeding the expectations..
S Abishek Raaja: @cinemapayyan It's been a while and I haven't seen screenplay exploited to this level.
#KannumKannumKollaiyadithal is a winner. From the backdrop of the story to the edit transitions, every aspect of movie making has been put to maximum use.
Commerical cinema gets a new high.
In one of the segments, the music director gels the car unlocking sound as the cue for the rhythms on the background score. This is exactly the kind of exploration makers should be looking at.
#KannumKannumKollaiyadithal
#KmBhaskaran's camera work stays in tandem with the story.
1ts half takes the time for the premise to settle but when
@menongautham walks in, everything just changes. 'Who is the bad guy' guessing game keeps the film enticing.
#KannumKannumKollaiyadithal is super relevant and fresh.
@desingh_dp takes us by a surprise.
Keeping the screenplay lively with one big genuine twist, #kkk has got some nice little touches even during montages
@dulQuer is dashing. @RakshanVJ is the major relief provider
Siddarth Srinivas: #KannumKannumKollaiyadithal Interval: Just awesome na. A smashing con thriller that is progressing swiftly, the 'techie' element stitched in by
@desingh_dp makes it interesting. @dulQuer and @menongautham in uber cool avatars, great to watch!
Rajasekar: #KannumKannumKollaiyadithaal this film has given a new color to actor
@menongautham, he will put a big smile in your face with his closure shot in the film. @desingh_dp has utilized him to the fullest.
Vishnu Murali: #KannumKannumKollaiyadithaal
2nd half was better and well executed. Sir @menongautham , you really entertained us all.. especially in the climax Rolling on the floor laughingRolling on the floor laughingOk handOk handOk hand.
Verdict: My thoughts - Not a must watch but a good family entertainer.#KannumKannumKollaiyadithaal
1st half over and I am not feeling sleepy .
Let's comment on the movie after 2nd half.
Arun Prashanth: #KannumKannumKollaiyadithaal - Gripping screenplay added with super twists served in a fun cup with a pinch of comedy sprinkled over!
Justice done for #DQ25 by @desingh_dp
@dulQuer & @RakshanVJ stole the show. Such a sweet gesture by dir.
@menongautham taking up this role!