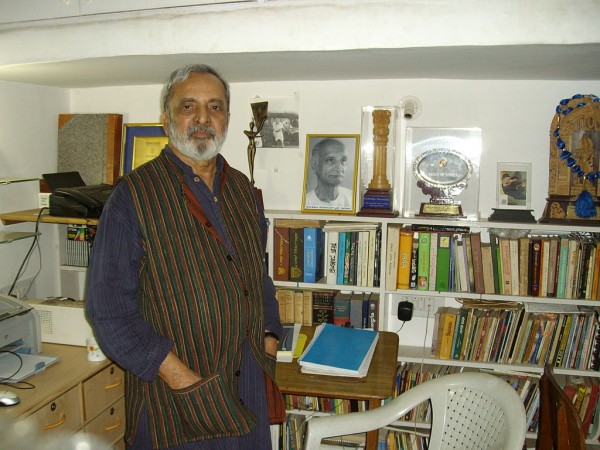 Noted contemporary Kannada writer and critic UR Ananthamurthy passed away in Bangalore at the age of 81.
Ananthamurthy was suffering from renal failure and was under dialysis for a few years now. He had also developed cardiac and respiratory complications recently, following which he was hospitalized.
The Jnanpith award-winning litterateur was shifted to Manipal hospital ICU four days ago. On Friday morning, doctors had indicated that his vital organs were failing and he was 'sinking', TOI reported.
The well-known writer studied English Literature at the University of Mysore and went on to earn his doctorate from the University of Birmingham in the 1930s, with a thesis titled "Politics and Fiction".
Ananthamurthy has published five novels, one play, eight short-story collections, three collections of poetry and eight essays. His works have been translated into several Indian and European languages.
In 1998, the writer received the Padma Bhushan award from the Government of India. He was also one of the finalists of Man Booker International Prize for the year 2013. He also served as the Vice-Chancellor of Mahatma Gandhi University in Kerala during the late 1980s.
Ananthamurthy is survived by his wife Esther Ananthamurthy and children Sharat and Anuradha.
During the 2014 Lok Sabha elections, the writer had raked up controvery with his statements against Narendra Modi.
The Jnanpith awardee had stated that he will not live in a country with Modi as Prime Minister, triggering angry reactions from BJP.
"I would not want to live in a country where Modi is the Prime Minister," Indian Express quoted Ananthamurthy.
After Modi became the new PM of the country, the Mangalore unit of NaMo Brigade had a go at the writer, sending him a flight ticket to Pakistan.
Twitter Tributes
The writer, teacher, public intellectual U R Ananthamurthy is no more. Here's my tribute to him from 2012: http://t.co/oZ9qaUy2sk

— Ramachandra Guha (@Ram_Guha) August 22, 2014
UR Ananthamurthy's writings and life's work: http://t.co/MnMa2ml5YG One of our greatest literary icons, and what a rich life he had. — Nilanjana Roy (@nilanjanaroy) August 22, 2014
RIP U R Anantmurthi, a great intellectual and fearless critic. You will be missed immensely.

— S l Habib (@irfhabib) August 22, 2014
Rather than mourn Ananthamurthy's death, let's celebrate a life rich in achievement and enjoyment. His memory and influence shall endure.

— Ramachandra Guha (@Ram_Guha) August 22, 2014
Saddened by news of Jnanpith award winning litterateur UR Ananthamurthy passing away in #Bangalore. My Prayers & Condolences to the family

— Rajeev Chandrasekhar (@rajeev_mp) August 22, 2014