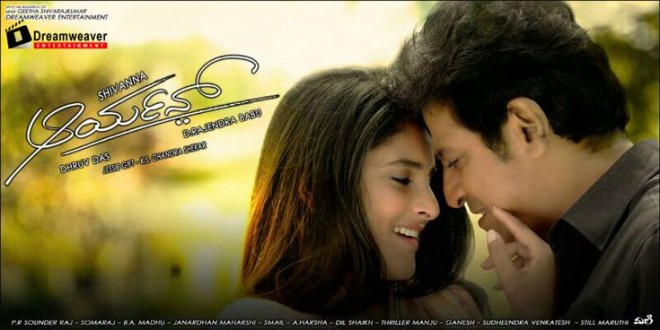 Kannada film actor Shivarajkumar is conferred with an honorary doctorate from Vijayanagara Sri Krishnadevaraya University of Bellary. Shivarajkumar, popularly known as 'Shivanna' is the eldest son of Kannada's most renowned actor Rajkumar. His father Rajkumar was also conferred an honorary doctorate from Mysore University.
"I am left wondering what achievement I have made. To be honored in the midst of such eminent people made me shrink in humility. The other awardees are luminaries in their fields. I am still nothing. I will be indebted to this love and affection," said Shivarajkumar to Chithraloka about his new achievement.
To begin his career in acting, Shivarajkumar had joined acting school in Madras after his graduation for a formal training in acting as advised by veteran Tamil Director K. Balachander. He made his debut with Singeetham Srinivas Rao's "Anand" in 1986, later went on to become a producer, a playback singer, philanthropist and a well known television presenter in Kannada. His three films, "Anand" (1986), "Rathasapthami" (1986) and "Mana Mechchida Hudugi" (1987) were all huge hits and he earned the name Hattrick Hero. He later went on to produce huge hits like "Om"(1995), "Jogi" (2005), "Janumada Jodi" (1996), "Chigurida Kanasu" (2013) among others. For a career that is spanning over 28 years, Shivarajkumar has acted in more than 100 films.
Shivarajkumar's film "Om" is considered to be a cult film in the Kannada film industry and positioned him safely as a superstar in Kannada. The film revolved around Bangalore's criminal underworld and he played the role of Sathya, a priest's son who becomes a rowdy.
His last release "Bhajarangi" (2013) became the highest grossing film of the year in Kannada. It is a fantasy film directed by choreographer turned director Harsha. It also had Aindrita Ray, Sadhu Kokila, Bullet Prakash, Tabla Nani, Girija Lokesh and Rukmini Vijayakumar in the lead roles.
Shivarajkumar is now awaiting the release of his film "Aryan." It has already made news with the death of its director Dr Rajendra Babu when the shooting was half its way. The film was later carried on with Chi Guru Dutt as the director. It revolves around the life of Aryan, played by Shivarajkumar. Aryan is a former Indian athlete and champion who later becomes an athletics coach. His student, a sprint queen, played by Ramya goes on to win a major athletics event. The film moves forward when both fall in love and how they overcome various issues that they have to face while achieving their dreams. Aryan is expected to be a family entertainer with music and dances sequences to enthral Shivarajkumar's fans.