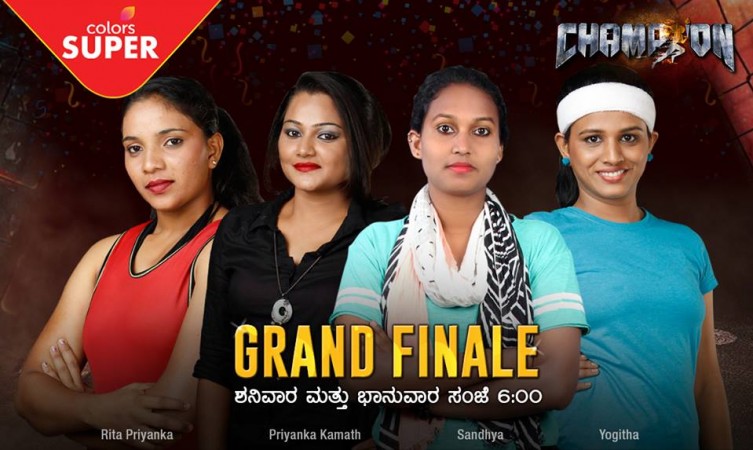 The grand finale of Kannada reality show Champion will be aired on Colours Super in two episodes. The channel has decided to telecast it at 6 pm on Saturday and Sunday.
Yogitha Bosle, Rita Priyanka, Sandhya and Priyanka Kamath have entered the last stage of the show. The girls who come from different backgrounds were selected for the show, which demanded them to display their physical and mental strength. Their journey in the show started at a seashore before moving on to a jungle and finally ending in a desert.
Yogitha Bosle
Yogitha Bosle hails from Bagalkote district and she is a dance trainer. She visited Vietnam for a dance assignment and also acts. She will be seen in a forthcoming Kannada movie Kengulabi.
Rita Priyanka
Rita Priyanka is known as the 'Sultan' of Karnataka. She is a wrestler, who has won several medals at state and national levels. Priyanka is from Srirangapatna, Mandya district.
Sandhya
Sandhya is from Madikeri and dreams to become a national coach of hockey some day. She is taking part in the show to purse her dreams.
Priyanka Kamath
Priyanka Kamath hails from Puttur and is an engineering graduate.
Yogitha Bosle, Rita Priyanka, Sandhya and Priyanka Kamath have been put to test in demanding conditions and they deserve to be in the grand finale. All the four have fair chances of winning although Yogitha is considered to be the hot favourite to win the trophy, according to people on social media.
Champion is hosted by Rehman Haseeb, who was one of the finalists in Bigg Boss 3 Kannada and a former news anchor. Actress Malashree will be a part of the grand finale too.