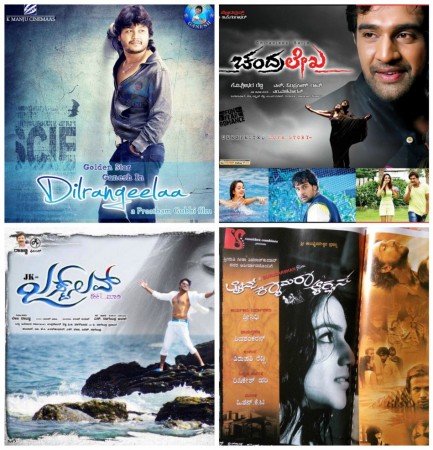 7 March is going to be the first Friday of the month and we know that most of you must be looking forward to it. Friday being the movie day, the Kannada film industry has four films hitting the screens this week.
The big release on this Friday is the much awaited "Dil Rangeela," which stars Golden Star Ganesh and Rachita Ram in the lead roles. The movie is currently boasting about having good music, comedy and great dialogue delivery. It is said that this movie which is helmed by Preetham Gubbi has experimented on the technical front. "Dil Rangeela" is all set to take you on a jolly ride through the tourist destination Goa.
The competitor for "Dil Rangeela" this weekend is a movie titled "Chandralekha," which stars Chiranjeevi Sarja and Shanvi Srivastava in the main roles. This film is helmed by veteran Om Prakash Rao. The actress, Shanvi looks very glamourous in the movie and audiences are looking forward to watch the pair sizzle on the big screen. Word is out that the two even have a lip lock scene in the film.
Another movie hitting the big screen on this Friday is "Lights Camera Action." It is directed by Gurudarshan Nagraj, with Balunagendra and Archana in the lead roles. This is a low budget film made by the director who is also a Software Engineer. The movie revolves around the story of filmmaking and its process.
The techie cum director who has funded his movie is very keen on proving that he too is a good filmmaker. "My film is a different kind of psycho-thriller. There are a lot of clues throughout the film which ultimately leads to the revelation in the climax," told Gurudarshan to The New Indian Express.
In this March movie marathon, we also have a movie titled "Just Love." As the name suggests, this is a simple love story. The lead roles are played by Karthik alias JK and debutant Neha Saxena. The movie is made by Nagendra Urs.
With so many releases in one day, the day cannot get boring. It looks like it is going to be a fun filled Friday for all the movie buffs.