Kannada film industry has produced over 110 movies of which there are some big hits and some films, despite riding high on good pre-talk, have failed to impress audience in 2014. Here, we are going to look at those films that did not meet audience's expectations.
'Ninnindale'
Puneet Rajkumar and Erica Fernandez starrer "Ninnindale" was one of the most-expected movies of 2014. The film directed by Telugu filmmaker Jayanth C Paranjee had created positive vibes with its audio songs and trailer. However, on release, people criticised the film for its boring narration. In fact, this turned out to be the biggest disaster of the Powerstar's career.
'Brahma'
R Chandru directorial "Brahma" got mixed reviews from critics and audience. The movie made decent business due to the massive publicity gimmicks of the makers of the film. But in the end, it turned out to become an average film. Audience did not like the dragging screenplay even though the concept of historical-action drew their attention.
'Crazy Star'
Ravichandran and Priyanka Trivedi's earlier movie "Malla" was a spicy and a masala entertainer. Their chemistry had worked big time in their earlier film. But "Crazy Star" was criticised for lifeless narration. Neither it had engaging screenplay like its original version "Traffic" (Malayalam), nor it had the elements that audience expect from Ravichandran's usual films. In the end, it let down the people's expectations.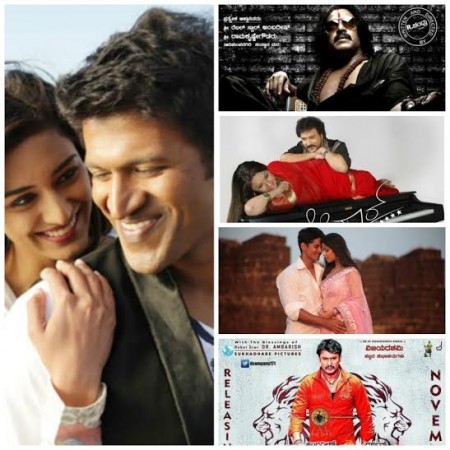 'Savaari 2'
"Savaari" by Jacob Varghese was a surprise winner at box office. The director's storyline and characters had won the audience's hearts. The same team joined hands for its sequel "Savaari 2" and people had high expectations from the film. But it failed impress cine-goers.
'Ambareesha'
Darshan, who is known as the Sultan of Sandalwood Box Office, starred in "Ambareesha" directed by Mahesh Sukhdhare. The movie was well-publicised and audience had mammoth expectations. But bad screenplay played the spoilsport. It was felt like the Challenging Star was getting repetitive and his films lack freshness in story execution and presentation. "Ambareesha" could only satisfy a section of audience and disappointed general audience big time.