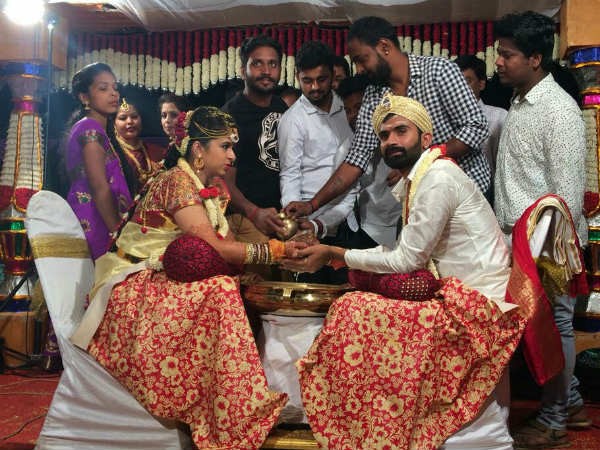 Kannada actor Yogesh has bid goodbye to bachelor life as he tied the knot with his long-time girlfriend Sahitya. Their wedding was performed at a conventional hall.
The wedding of Yogesh and Sahitya was an amalgamation of Brahmin and Kuruba customs as the bride and groom belong to different communities. The groom tied the knot to the bride at 6 am.
The wedding was graced by the couple's family members and friends. Among the celebrities, Shivaraj Kumar was spotted at the wedding hall early in the morning. However, who's who of Sandalwood is expected to attend the couple's wedding reception in the evening.
Yogesh has invited all the stars that include Puneeth Rajkumar, Sudeep, Yash and Darshan.
Yogesh and Saahitya are childhood friends who studied together till class 10. "Having been in showbiz and known nothing but cinema, I was impressed by how she didn't get wide-eyed about actors or tinsel town. Simple and grounded, she has a firm head on her shoulders and her qualities have rubbed off on me, too," the actor had told The Times of India.
Saahitya, who hails from Mysuru, works with an IT company. Yogesh, who is the son of producer TP Siddaraju, has acted in over 20 films in Sandalwood. He has many movies in his kitty, including Leader, Snake Naaga and Prachanda.