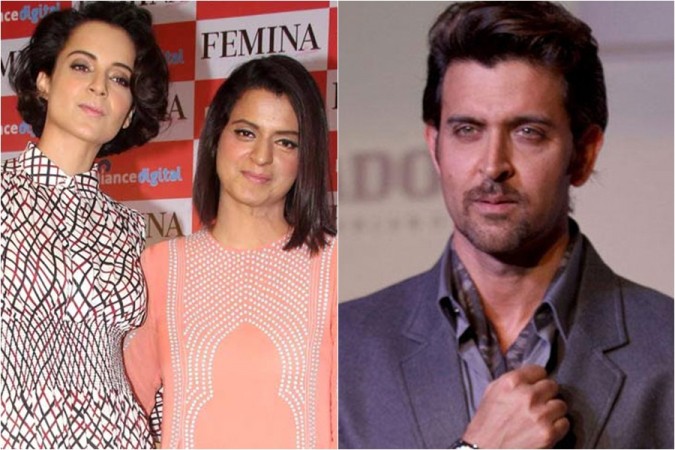 It seems like Hrithik Roshan–Kangana Ranaut controversy is never going to die down.
Kangana's sister Rangoli Chandel has come up with yet another video (47 minutes) and this time with proofs where their lawyer Rizwan Siddiquee has done a thorough post-mortem of Hrithik Roshan's interview with Arnab Goswami.
She tweeted: "Please check how our lawyer @RizwanSiddiquee exposed @iHrithik lies in this video"
Kangana Ranaut's sister Rangoli Chandel has been spewing venom in a continuous Twitter rant against Hrithik Roshan for a long time now. She had also lambasted the people in the industry who came out in support of the actor over his ongoing tussle with the Queen actress. Rangoli recently became a mother of a baby boy.
Speaking to Indian Express, Kangana, a few months back, said, "She (Rangoli, Kangana's sister) had a terrible time before, as she had a miscarriage. But now she is very happy and very hormonal. So I ask her to not tweet please, but she keeps on tweeting very impulsive things, and I am like, can you please not do that?"
Kangana Ranaut and her sister Rangoli made several allegations against Hrithik Roshan over their alleged affair, photoshopped picture and leaked emails.
After Kangana's lawyer released a series of questions, Hrithik's spokesperson responded to the controversy. He also answered the question about a picture that showed "proof of intimacy" between Hrithik and the Queen actress.
Hrithik's spokesperson said: "That picture is from a party. This picture was presented in an out-of-context format to media. There are so many pictures of that night which were tweeted by Hrithik's friends and ex-wife after this picture was presented as a proof of intimacy."
In other news, at an event recently, Kangana was asked about Padmavati controversy and she said: "It is absolutely wrong, but I feel it is not something which is very surprising. When my sister was in school, she faced an acid attack from a student and now when I am in a professional environment, a superstar is trying to put me behind bars. So, this is very common that happens in our society."