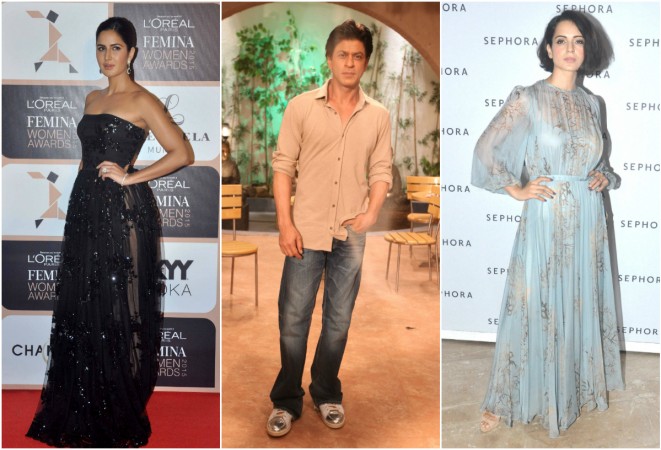 Kangana Ranaut is one of the most sought-after stars of the industry, but her approach towards work (although a healthy one) is costing her major projects.
According to reports, she was to be part of "Bandhua" — Shah Rukh Khan's next with Aanand L Rai — but was dropped after the filmmaker thought he wouldn't able to handle her demands. Katrina Kaif has apparently replaced the "Queen" actress in the film.
"Kangana is invested in a film beyond her own responsibility. She likes to collaborate on the script, costume and other departments. And Aanand had become uncomfortable with that even in 'Tanu Weds Manu Returns.' He appreciates that she wants to be involved every step of the way, but he doesn't want to risk casting two headstrong personalities like Shah Rukh Khan and Kangana in the same film," BollywoodLife quoted an insider as saying.
However, the names tossed around as SRK's leading ladies from the film is part of speculations around the film and those interested should wait for an official announcement.
What else do we know about the project?
Scheduled for a Dec. 21, 2018 release, the SRK-Aanand film relies heavily on VFX. The superstar is certain that there's technology to make a full-grown adult appear shorter, without making a caricature of him.
"It will need tightening. We will do it once and fail, maybe. But we will get it right because it has been done previously. I think it has been tried in 'The Hobbit.' But we have never used that technology in India," Shah Rukh told DNA earlier this year.
What else does SRK have in store?
What's getting his fans excited is he has been experimenting lately and has sort of detached himself from the box office race. In "Fan," he played the obsessed, twisted look-alike fan of a superstar. His on-point portrayals of both these characters have been loved and appreciated by the critics, but the film was rejected by viewers mostly because it had no songs or leading lady to draw audiences.
Gauri Shinde's "Dear Zindagi" and Imtiaz Ali's "The Ring" are two of his other upcoming films, in which he plays a counsellor and tourist guide, respectively.