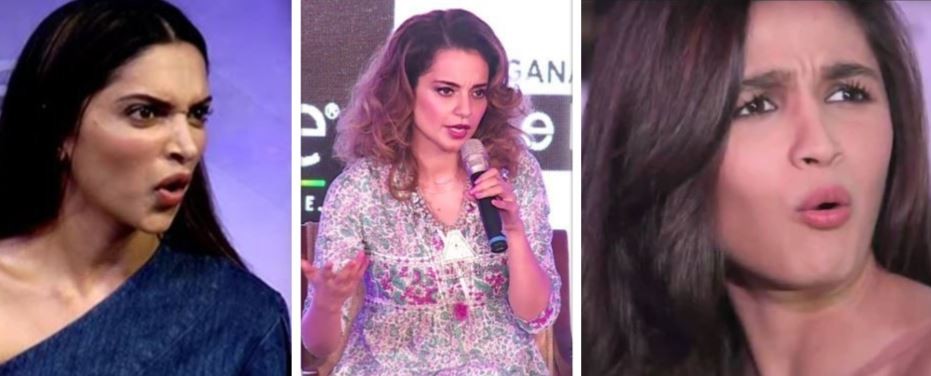 With barely a few days left for Kangana Ranaut's movie – Manikarnika – to release, the diva has been attending press conferences and interviews for the film's promotion. And just like her usual unabashed self, all her interviews are bound to make headlines.
Something similar happened at her interview with film critic Rajeev Masand where the diva questioned why she is being ignored and her hard work not appreciated by the people in the industry.
Talking about how she never feels threatened by anyone around, Ranaut said that she praised Alia Bhatt, Anushka Sharma and almost everyone in the industry. She added that she even went to Deepika Padukone's 'Piku' screening. She reminded us how she saw Sonakshi Sinha's 'Lootera' and for an entire year kept on praising it.
She added that she has praised everyone in her capacity and never gets threatened. She also questioned as to why everyone else behaves as if Kangana Ranaut doesn't exist. She says that she has been unable to understand why such an attitude has been going on.
The 'Manikarnika' actress further said that the trailer of the film has crossed millions of views and appears to be one of the most promising films of this year. Despite this, she is flummoxed as to why people pretend that she doesn't exist. She questioned why nobody talks about her teasers or trailers.
Delving further, Kangana said, "When I saw 'Raazi' I praised it. I didn't think whose film it is. It is a film, that is it. It doesn't belong to an individual, it belongs to society. I just feel that when I look at a film I don't feel that since it this person's film, maybe I should look the other side. I don't feel like that."
Well, we wonder what Alia Bhatt has to say to this.