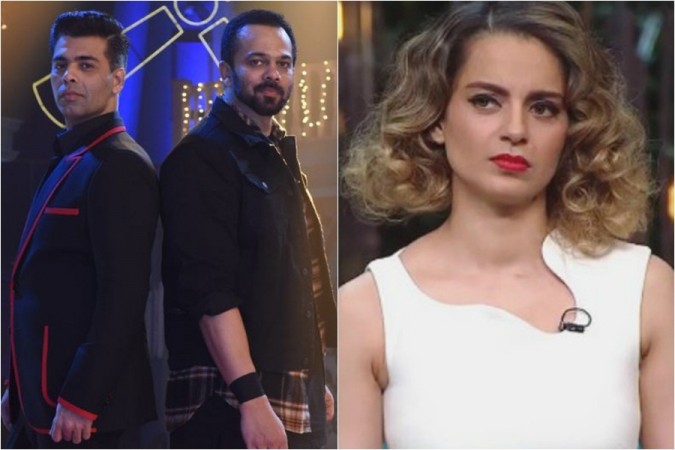 The nepotism tussle between Kangana Ranaut and Karan Johar created a lot of noise in 2017 when the former termed the latter as 'the flagbearer of nepotism' on his show Koffee with Karan 5. The episode was followed by a series of counterattacks from both the parties taking potshots at each other.
However, the two decided to let bygones be bygones when Karan said he would love to have Kangana as one of the guests in India's Next Superstar where KJo and Rohit Shetty are on the judges' panel. But something unusual happened when the Dharma Productions head asked Kangana and Shetty to perform a sexy scene on the sets.
According to a report in Mumbai Mirror, KJo, who is very fond of sexy romance, wished to see a different side of both Kangana and Shetty and said he would direct an impromptu sexy scene between the two.
In the said scene, Rohit was asked to play Kangana's former lover whom the latter wants back her in life. The Golmaal filmmaker was supposed to deliver the popular dialogue, "Aaj mere paas building hai, property hai, bank balance hai, bangla hai, gaadi hai, tumhare pass kya hai?" from Amitabh Bachchan, Shashi Kapoor's cult film Deewar.
But when Karan shouted action and Kangana went towards Shetty and touched him seductively, the filmmaker backed off and said, "Na bhai na, isse panga kaun lega! (No way man, who's going to mess with her)"
It looks like after Karan Johar's nepotism row, Shetty doesn't want to take any chance to offend Kangana in any way and we second his thoughts.