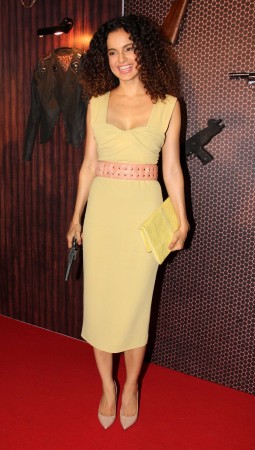 Bollywood actress Kangana Ranaut's recent exit from Sujoy Ghosh directed "Durga Rani Singh" ("DRS") has led to several rumours.
Ranaut was approached with the role of a 35-year-old mother of a paralytic teenage daughter in "DRS" after the film's original choice, Vidya Balan opted out. Ghosh was said to be quite impressed with Ranaut's performance in "Queen" and offered the role. But the actress recently declared that she is no more a part of the project.
Speculations were rife that "Krrish 3" actress' demand for an increased remuneration may have led to her ouster from "DRS." Then other reports claimed that the actress gave up the film due its schedule clash with her scriptwriting course in New York.
But the 27-year-old at a recent brand promotion event revealed that she had opted out of "DRS" due to her prior commitments and at the same time she said it had an 'amazing script.' She even wished the director on the film, reported Masala magazine.
Despite the actress's statement, another report has surfaced stating that the reason behind the actress's exit from the film was because the producers considered Ranaut unsuitable for the role. The report further carried that the makers did not consent with director Ghosh's choice as they felt Ranaut was not mature enough to play the role of a 30 plus mother and wanted a different actress to play it.
"Sujoy's co-producers wanted a more experienced actor for the lead role. They weren't too convinced that Kangana can do justice to the role of the 35-year-old mother of a 14-year-old paralytic girl ... they wanted someone more mature," a source closed to the director informed Hindustan Times.
The role was initially created with Balan in mind and it should also be noted that Ranaut has not played a mother onscreen till date.
Meanwhile, after Ranaut's exit, reports have suggested that Kareena Kapoor Khan has now been approached for "DRS." The filmmaker is said to have discussed the project with the actress and was even reported that he flied to Goa where Kapoor is presently shooting for Rohit Shetty's "Singham Returns" with Ajay Devgn.
"They've almost finalised on Kareena ... just waiting for her to sign the contract," the source added.
However, the "Kahaani" director when asked on the development of the film refused to give out more details.
"My apologies but I am not talking about my film right now," Ghosh was quoted saying by the tabloid.
Previously, Khan had opted out of "Queen" which eventually went to Ranaut and became a success upon its release. And a similar situation has now unfolded with Khan now being offered "DRS" after Ranaut's exit.