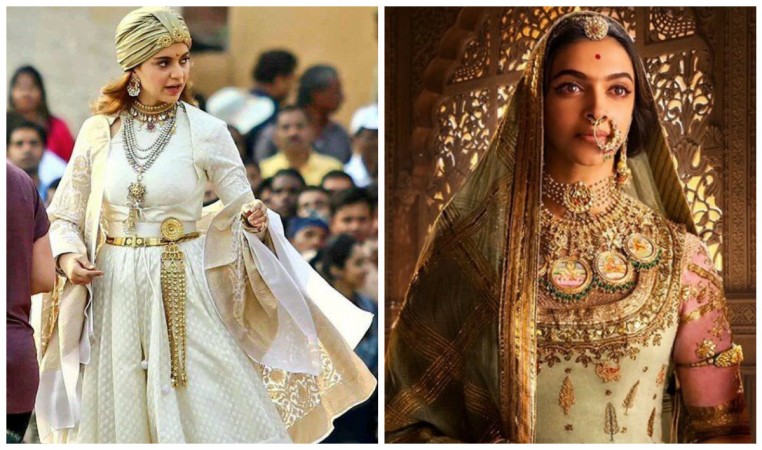 Kangana Ranaut grabbed much attention after her look in Manikarnika got leaked on social media. However, there are rumours that the makers of the film intentionally circulated the pictures as the actress is insecure about the buzz around Deepika as Padmavati.
In the first look photos of Kangana in Manikarnika, the versatile actress is seen in a gorgeous yet fierce avatar of Jhansi Ki Rani Laxmibai. She was shooting for the film in Jaipur, and the leaked photos are from the sets itself.
As soon as the photos appeared on social media, comparisons between Kangana as Laxmibai and Deepika as Padmavati started doing the rounds on social media. While many said that Kangana looked better in the look of a queen, others voted for Deepika.
However, the most interesting aspect of the debate is that it is being said that Kangana and her team have been deliberately leaking the pictures on social media to remove people's attention from Deepika's Padmavati.
It is being said that Kangana got insecure for all the massive attention that Deepika has been receiving ever since the first look and trailer of Padmavati was released.
"How else can you explain the multiple pictures of Kangana in a queen's avatar being 'leaked' from the sets on a daily basis? Kangana may be feeling anxious, but it is too early for her pictures to come out much before the release of the film. She may well want to piggyback on Deepika's queen visuals coming out, but this is more of a knee-jerk reaction," one entertainment portal quoted a source as saying.
Kangana and Deepika are two of the leading Bollywood divas currently, and in such a situation, comparisons between them are bound to occur.
However, there is a big time gap between the release dates of Padmavati and Manikarnika, and hence Kangana ideally should not have any such insecurity.