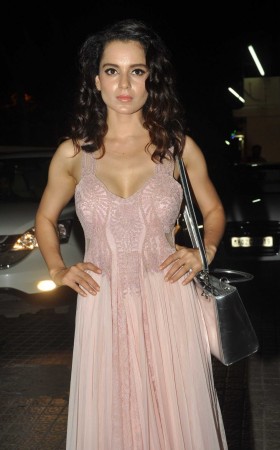 Bollywood actress Kangana Ranaut's candid confessions do not fail to surprise us.
The pretty lady, who recently turned 27, is currently enjoying the accolades for her most recent release "Queen". Ranaut shed her inhibition as she honestly confided some secrets of her personal life. In an interview with Hindustan Times, the actress expressed her wish to move on with her love life, over her film career.
"I want to be in a relationship. I want to move away from movies and have a life. Ideally, I would want to do one movie in a year or two, but the offers now are so tempting, it's hard to refuse. So where will I make the time to date someone?" the actress told the newspaper.
Surprisingly, Ranaut shared a little more on her romantic liaison, which is quite unusual for a Bollywood celebrity.
"I have a friend who has been pursuing me for a while now. He lives in New York (USA) and he's a very dear friend. Frankly speaking, I'd love to date him. He's a very nice guy and he's fun. But I'm not sure what's going to happen," the actress revealed.
However, Ranaut confessed she is torn between her professional and personal commitments.
"With the kind of roles I play, I'm not myself. And I become the character for a very long time. So it's difficult, right? I want to be with him, but I don't think it's happening. Let's see how that goes," she pointed out.
While Ranaut seems a little clueless about her personal life at the moment, she has had a fair share of infamy with respect to the men she was linked with in the past.
The "Gangster" actress was earlier associated with the much older Aditya Pancholi. After being together for some time, the two separated amidst an ugly financial accusation from the latter. She started seeing Shekhar Suman's son Adhyayan Suman while shooting for "Raaz 2" but the two broke up after Shekhar expressed his dissent.
The actress had also confessed to dating UK-based doctor Nicholas Lafferty once but the couple broke up, days after being spotted together in Mumbai. This apart, rumours have also stated that Ranaut fell for the married Ajay Devgn during the filming of "Once Upon a Time in Mumbai" (2010).