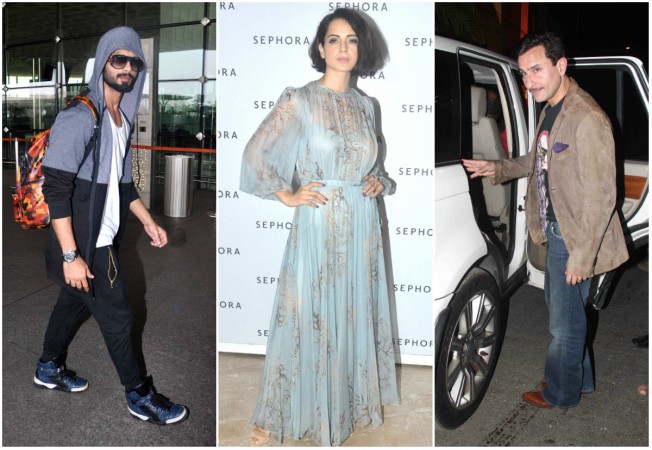 What's a love story without some passion? Kangana Ranaut will apparently share a string of steamy kisses with Shahid Kapoor and Saif Ali Khan in Vishal Bhardwaj's "Rangoon."
The actors are married men and had apparently sworn not to lock lips with their co-stars. But that "policy" (assuming there was one) is clearly not on top of their priority list right now.
A source told Absolute India News Saif and Kareena had promised not to kiss on the screen, but looks like they have grown out of it. "But, later the husband and wife maturely understood they have to professionals and if the script demands such scenes, they have to abide by it. That's why after Kareena, Saif will be seen performing a kissing scene with his co-star Kangana Ranaut in the film Rangoon," the insider said.
Shahid, interestingly, never made any such promises, but there was a lot of noise about he adding a no-kissing clause in his contracts. "Unlike Saif and Kareena, although Shahid never made an official announcement that he would not kiss on the screen, rumours were rife the actor, after his marriage with Mira, would not be doing such scenes on screen. But in Rangoon even Shahid had a few kissing scenes with Kangana," the source said.
Meanwhile, Shahid and Saif have a personal history that isn't very pleasant, but they do not let it affect each other's work. Saif helps Shahid ease up during scenes and makes sure he gives him a cue if and when he needs one, the Asian Age reports.
In other news, Shahid and Kangana recently wrapped up the shoot for a romantic number in Arunachal Pradesh and are now gearing up for the next schedule. Set in the World War II era, the "Casablanca"-esque love story is scheduled for a Sept. 30 release.