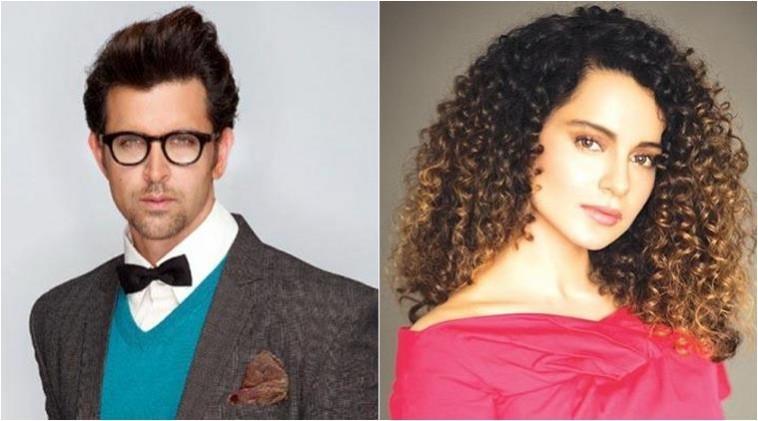 Kangana Ranaut has yet again reignited her feud with Hrithik Roshan, connecting the actor's name with #MeToo movement. The actress, this time, referred Hrithik as a man who keeps wives as trophies and young girls as mistresses. However, her attack on the actor did not go down well with many.
In a recent statement, Kangana said that not just people who are accused of sexual harassment, but also men who make false marriage promises and keep young girls as mistresses should be punished. She said this referring to Hrithik.
"People who keep their wives as trophies and keep young girls as their mistresses should also be punished. I am referring to Hrithik Roshan. People should not work with him as well," she told a leading news channel.
Many on social media have started expressing discontent at Kangana's words, saying that she has resorted to cheap publicity at the cost of #MeToo movement. Many also felt that the actress targeted Hrithik to gain publicity for her upcoming movie Manikarnika, which is set to be released alongside Hrithik's Super 30 on January 25 next year.
There are strong reactions coming in on social media, mostly slamming the Queen actress. Some have already called for the boycott of Manikarnika. Some are just shocked assuming that Kangana, in her statement, referred to herself as a mistress. Others slammed her claiming that such acts by Kangana will destroy the #MeToo movement in India. And some just expressed exhaustion at seeing her "playing the victim card".
Check some of the angry reactions to Kangana's remark:
And I think #KanganaRanaut is on self destruction mode.. let her explode..People now understand her cruel intentions very well..Better HR should keep quite..After #Manikarnika she is gone..I bet.

— Nocturnal (@Ratrikalin) October 11, 2018
Ok even if we believe her story for a minute that she dated #Hrithik , then same should be done to girls like #KanganaRanaut who are ready to be mistress knowing they are married.

I would see what feminists has to say for her now when she admitted to be somebody's puppet.

— Heramb (@i_heramb) October 11, 2018
Someone please shift Kangana Ranaut to a mental asylum, she needs an immediate treatment.

— Divya (@divyaramnanii) October 11, 2018
Kangana Ranaut is Sri Reddy of Bollywood.

If there is anyone who can single handedly derail the complete #MeToo movement, that will be Kangana.

What a Disguisting Human.

— Z. (@SurrealZak) October 11, 2018
i think #KanganaRanaut should stop dissgracing the already suspect #MeeTooIndia movement by pushing her personal agenda she starts this whenever her film nears a release

— NerdySam (@samirnewsmaker) October 11, 2018
Thank u??? i hv to say this on what we hv sn abt her over these yrs. #KanganaRanaut is biggest victim of everything, everytime. Every people around her, every lover she got,every co-workers,every co-actors she worked with..were all very very bad. Only she's good. Isn't it? ?

— Rajiv Ranjan (@iRajivRanjan) October 11, 2018
enough is enough @iHrithik ??? when r u going to file a case against that attention seeking psycho bitch #KanganaRanaut.... don't let that witch n her PR used ur name to promote her pathetic film again.......???

— deepu ? (@azzizat_lucy) October 11, 2018
I support #METOO.Punish Rapists,Harassers.But don't know y #KanganaRanaut always bring @iHrithik's name wen her movie's release is near.Evry1 knows y Manikarnika got pushd 2 #Super30's date.If havin n affair while being married dsrvs jail,den almst every1 in Bollywd wil b in Jail

— Rohit Sharma (@memyselfrohit) October 11, 2018
This is a pure strategy to create unnecessary controversy to promote her movie. On the one hand we have Hrithik Roshan who doesn't even take her name and on the other we have kangana who is ready to say anything about anyone as long as it benefits her movie #MeToo #KanganaRanaut https://t.co/AoF4vBkzpL

— ajay uaday narayan tiwari (@AjayUaday) October 11, 2018
Ladies I urge u all to knw the difference between genuine harassment by shameless men n the harassment in the name of rejection two different points. WAT taneeshree Dutta wen thru is unacceptable. Bt WAT this #KanganaRanaut is doin is very very cheap, trashy n disgusting https://t.co/ZoygK1pBr1

— prerna jain (@prernaRjain) October 11, 2018
Kangana and Hrithik's controversy had started a few years ago when the actress had claimed to be in a relationship with already-married Hrithik, but the latter had denied the claims. It was followed by a nasty episode with a lot of mud-slinging done from both the sides and also legal notices were sent to each other. However, the row had eventually settled down, but Kangana has yet again ignited the flame.