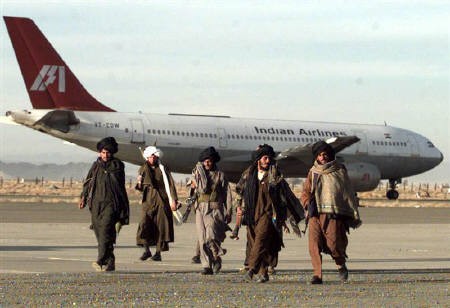 Former Research and Analysis Wing (RAW) chief AS Dulat made some major revelations on the 1999 Kandahar hijack, which shows how the Centre failed to stop flight IC-814 from taking off from Amritsar airport, where Punjab commandos trained in anti-terrorism operations were deployed to face the extremists.
Dulat said that instead of passing on the instruction to the Punjab police to foil the hijack, both Centre and Crisis Management Group (CMG) were worried about the collateral damage and thus goofed-up their chance to stop the plane from flying to Kandahar, Afghanistan, on 24 December.
"No one was willing to take a decision and in that confusion no instructions were passed on to Punjab Police which had moved in its personnel," PTI quoted Dulat as saying in an interview with India Today.
India wanted to raid flight 814 in Dubai
When the hijacked plane 814 was in Dubai, India had requested the authorities there to allow Indian commandos to conduct a raid. However, the local authorities refused and India lost another chance to avoid releasing the three terrorists, including Omar Sheikh.
"We tried to prevail on the Americans to put pressure on the UAE to allow us a raid, but India found itself isolated internationally. Nothing seemed to be going our way," he writes in his book "Kashmir – The Vajpayee Years."
Blame game in CMG began after two failed attempts to foil the hijack
As the Centre failed to take any decision, the flight took off, and thus began the blame game in CMG, Dulat writes.
"... the CMG degenerated into a blame game, with various senior officials trying to lay the blame for allowing the aircraft to leave Indian soil on one another; the Cabinet Secretary, being the head of the CMG was one target, and the NSG chief, Nikhil Kumar, unfortunately became another," according to The Indian Express.
Farooq Abdullah was not happy with the Centre's decision
The Centre then agreed to set free the three terrorists as demanded by the hijackers. However, the decision did not go down well with the then Jammu and Kashmir Chief Minister Farooq Abdullah.
Dulat recalls how Abdullah shouted at him for around three hours when he went to convey the Centre's decision to free two of the three terrorists – Mushtaq Latram and Malulana Masood Azhar – from J&K prison.
"He shouted at me for hours together saying this was a mistake being committed by the Centre," PTI quoted Dulat as saying.
"He (Abdullah) experienced waves of anger. He would calm down and then would start all over again. Calm down and start again. Then he was at it: how weak Delhi was, how big a mistake this is, what a bunch of bloody idiots, buffoons. It just went on and on and on... He then called up Jaswant Singh and give him an earful: 'aap jo bhi kar rahe hain, galat kar rahe hain.' He called up others in Delhi. He kept banging the phone down... 'I will not let this Kashmiri fellow (Zargar) go, he's a killer. He will not be released.'"
Dulat further wrote that Abdullah, in anger, went to give in his resignation papers to the then Governor at 10 pm. However, the Governor calmed him down and convinced him to do as Delhi wants.
"Dr Saheb, you can't throw in the towel so easily. At this point of time, there is no other option. This must have been thought of and discussed in Delhi, and if they've decided that there's no other option, then we have to go along with it," Dulat quoted the Governor as saying.
Even though Abdullah agreed, he was firm with his stand against it. "Okay, if you want to go ahead and release them, do it. But I want to lodge my protest," Abdullah had said.
Abdullah had also opposed the release of five militants in exchange for Mufti Mohammad Sayeed's daughter Rubaiya Sayeed in December 1989. "How has it come from one to three to five (militants)? Even if it was my own daughter, I would not release them," Abdullah had told an emissary, Dulat writes.
Dulat further writes that Abdullah had said, "We will have to pay for it (releasing terrorists)".
Indian Airlines Flight 814, which was on its way from Tribhuvan in Kathmandu to Delhi in India, was hijacked allegedly by a Pakistan-based Islamic extremist group Harkat-ul-Mujahideen. The hijackers forced the plane to land in Kandahar, where the three terrorists were swapped for the passengers.
The extremists released all the passengers and crew members alive, except one Rupan Katyal, who was stabbed to death by the hijackers.