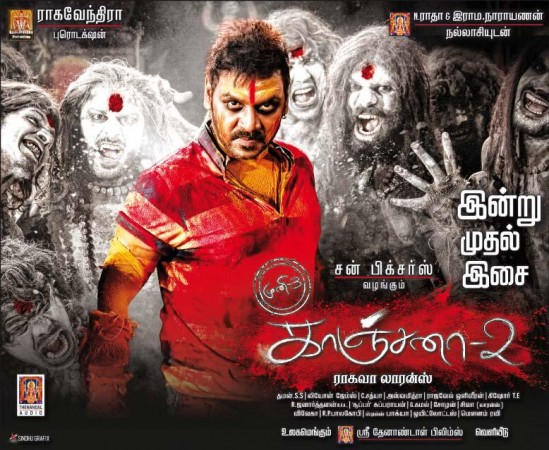 Tamil movie "Kanchana 2" is all set for a mass release on 17 April. The movie, which is written and directed by Lawrence, has got a good pre-release buzz and will be shown in 350 screens across Tamil Nadu. With the release date inching closer, industry analysts weigh its chances at being a box office success.
Here we are listing five reasons which we think might help "Kanchana 2" to be a big hit.
Good track record with the previous two sequels
One major reason behind why everyone is looking forward to the movie is the success of the previous two versions -- "Kanchana" and "Muni". Both the films saw unprecedented success and ran for good 50 days at the box office. The kind of buzz that the movies created would be enough to push the crowds to the theatres for the first whole week.
Raghava Lawrence
The second reason is Raghava Lawrence himself. After all, his movies wouldn't have made sense if not for a talent like him. From the making of all three series to acting and dancing, the movie is all about him. Lawrence has managed to create a good brand for himself with the series and as always, the audience trusts him to put together a good fare for them.
Entertaining Script
A major highlight all the previous flicks of the "Muni' series was the highly entertaining script. Like always, this time too Lawrence has assured that his movie has a good blend of horror and comedy which will give audience a new feel altogether. The teasers of the movie have also assured that the audience can look forward to a good entertainer.
Good Pre-release Buzz
With some good promotions, the movie has gathered a great pre-release buzz and this reflects in the number of screens the movie has got on the release day, even though there is big Mani Ratnam release "OK Kanmani" lined up.
Star Cast
Another noticeable aspect of the movie is the star cast. Besides the usual cast, Lawrence has new additions for the movie. "Kanchana 2" has Tapsee Pannu, Nithya Menen, Kovai Sarla, Devadarshini in key roles.