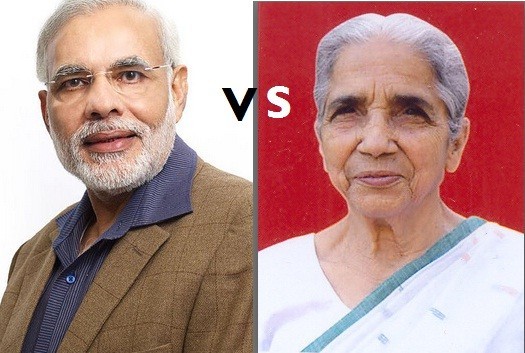 Octogenarian Kamla Beniwal, the UPA-appointed Mizoram Governor, who was being cornered by the new Modi government, was sacked from her post on Wednesday just two months before her tenure was to end.
The 87-year-old Beniwal had been shifted to Mizoram last month from Gujarat, where she is known to have had differences with former Chief Minister Narendra Modi over issues of legislation.
Reasons for Beniwal's sudden sacking oscillate between her tumultuous relations with Modi in Gujarat and her alleged involvement in a land scam in Rajasthan.
As the governor of Gujarat, Beniwal had challenged the state government on issues such as the appointment of a Lokayukta. She had appointed retired Justice RA Mehta as the Lokayukta in Gujarat, but the Modi government challenged the decision in the High Court and later in the Supreme Court. The apex court had upheld the appointment last year, though Justice Mehta never took up the post.
She was also accused by the state government of delaying legislations passed by the Gujarat Assembly, such as the one that sought 50 percent reservation for women in local bodies.
The Congress is understandably livid about the development. "This is a flagrant violation of not only the SC judgment, but also the Constitution. A change in government at the Centre is not a ground for removal of Governors to make way for others favoured by the new government," Congress leader Manish Tewari told NDTV, citing the 2010 Supreme Court ruling.
When she was shunted out of the Gujarat office last month, Congress had termed the transfer "vindictive."
However, some sources have been reported saying that Beniwal's sacking is related to her involvement with a four-year-old land scam in her home state of Rajasthan, wherein she has been accused of acquiring land plots from the government for farm labour while she was a minister in the Congress-led state government at that time. She is accused of being part of a "fake" farmers' cooperative for securing 209 plots for throw-away prices.
The BJP-led government is, however, still to make the reason behind her sacking clear. "We have taken a decision... we will not be able to give the reason," Union Home Minister Rajnath Singh was quoted saying.
A statement from the Rashtrapati Bhavan issued late on Wednesday said - "The President has directed that Dr (Smt.) Kamla shall cease to hold the office of the Governor of Mizoram."
Manipur Governor Vinod Kumar Duggal has now been instructed to take additional charge to discharge functions of the Mizoram Governor until a new person is appointed.