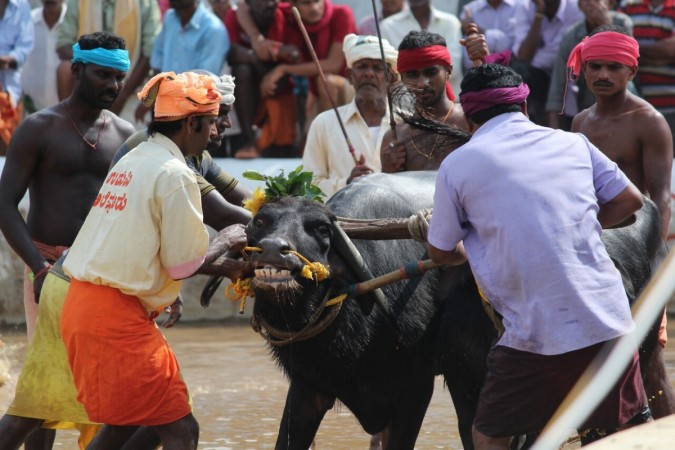 Moodbidri town in Dakshina Kannada celebrated 'Kambala'', a traditional slush-track buffalo race on Saturday, even as PETA (People for the Ethical Treatment of Animals) is waiting for the Supreme Court to hear its petition seeking direction to strike down the Prevention of Cruelty to Animals (Karnataka Amendment) Ordinance, 2017, on Monday.
The bill was passed by the Legislative Assembly of Karnataka on February 13, 2017, and allowed the residents of the Dakshina Kannada and Udupi districts to hold the traditional Kambala race till January 20, 2018.
But it was challenged by the PETA and a hearing was scheduled on November 13.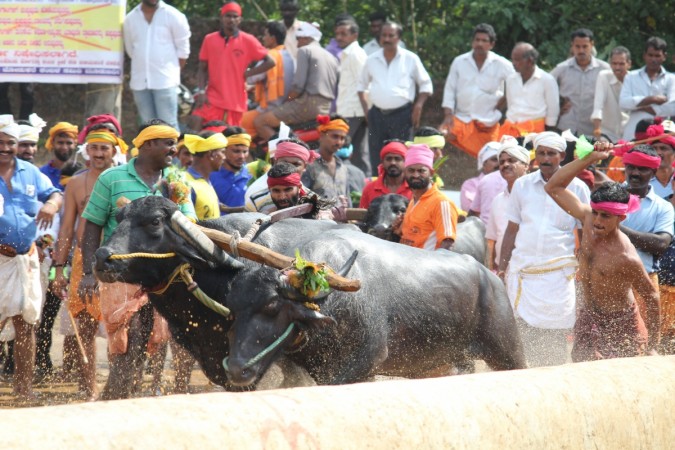 However, PETA is eagerly waiting for the November 13 hearing and is determined to do away with the buffalo race as it has video and photographic evidence of the recent race which shows that the buffaloes were subjected to cruelty.
Koti Chennaya Jodu Kare (double track) 'kambala' which went on for 24 hours at Kadalakere in Moodbidri was the first of the 19 double track 'kambalas' scheduled for the 2017-18 race season.
Animals were tortured, says PETA
However, PETA documented the entire race and said the buffaloes were subjected to cruelty. More than 50 pairs of male-buffaloes arrived at Kadalakere by 10.30 am, reported The Hindu.
The animal rights organisation said some bovines even bore bloody wounds. They were beaten, prodded with wooden sticks and their tails were pulled.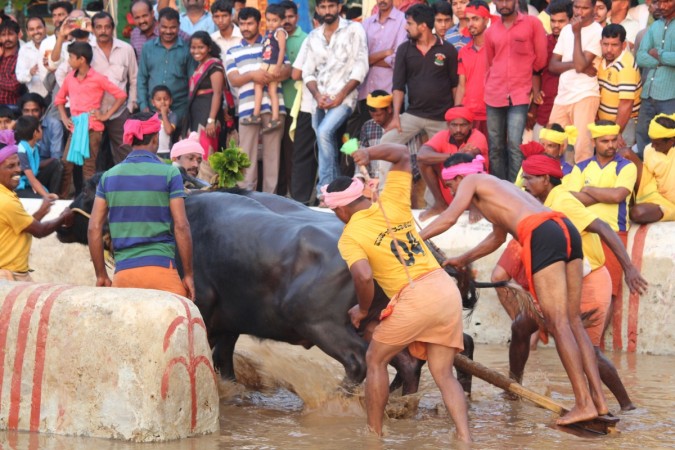 The animals even had marks on their hindquarters, which meant that they had been beaten before the race.
The report also said that thick ropes were inserted into their nose, which caused them immense pain and distress. By the time the race was over, the bulls were frothing at the mouth, salivating and breathing heavily.
PETA hopeful
The PETA is hoping that the documentation would help them defend their point in the Supreme Court.
"This investigation proves yet again that buffalo bulls are terrorised in cruel kambala events – and no amount of regulation can ever change that, which is why the Supreme Court banned these races in the first place," said PETA Public Policy Lead Nikunj Sharma.
"Buffalo bulls deserve and need the Supreme Court's full protection again," added Sharma.