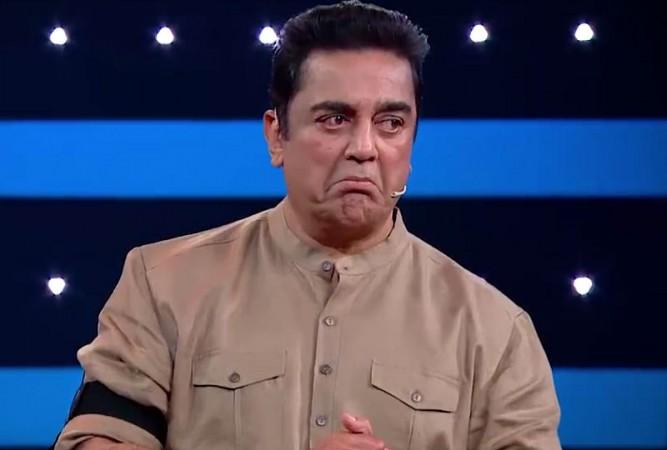 Kamal Haasan has been making a series of comments on politics for over a month. The latest in the line is his request to people to control their anger and vent it at the right time.
The channel had invited eliminated contestants like Julie, Gayathri, Harathi Ganesh, Shakthi and Bharani on Sunday's special weekend episode of Bigg Boss Tamil. Everyone shared the experiences they had had after leaving the Kamal Haasan-hosted show.
Harathi Ganesh got the ball rolling, saying she promised herself not to cry after being evicted from Bigg Boss Tamil. She said her father pointed out that her stand while in the house was never wrong, the way she conveyed it was.
"People online thought I had a superiority complex and was arrogant in the house. I wanted to show the other side of me," she said while revealing that she tonsured her head to support cancer patients.
She wanted to convey a message that beauty does not lie in our looks but in our character. "Many working-class women fear going out in public after chemotherapy. I wanted to urge them to shun the thought."
Gayathri, Shakthi, Julie and Bharani also shared their experience after coming out of Bigg Boss Tamil. While Shakthi said he has matured as a person post the reality show, Gayathri claimed she has taken Kamal Haasan's advice to smile when people try to hurt her with their words.
The crowd sitting inside the auditorium greeted Julie with boos and hisses when she tried to speak. Kamal Haasan came to her rescue, saying: "You should not display your anger at a young girl because she lied. It is just a game and she has committed a crime. Shouldn't you target politicians, who have lied to you all these years?"
While this jibe was more on the nose, Kamal Haasan continued to target politicians, but in a more veiled manner. "Don't waste your anger by targeting Julie or Gayathri. Vent it when the time is right," he said.
Kamal Haasan has been at the loggerheads with the current government and the party in power. He has slammed the AIADMK repeatedly over the past month and denounced them by saying: "No government department is free from corruption."
In retaliation, the government has gone all out to attack him personally and professionally by highlighting issues like his failed relationship with Gauthami and calling him a "third-grade actor."