Indian actor Kamal Haasan turns 62 on Monday, November 7, and massive birthday celebrations by his fans were expected in Chennai. But he told them that this year he didn't want any festivities around his birthday as Tamil Nadu Chief Minister Jayalalithaa was still in hospital.
As everyone knows, Kamal Haasan was a child artist who has grown today into one of the most formidable actors in India. He is self-taught and despite not having had a formal education, his friends and co-stars say that he can speak effortlessly and with authority on most topics. He has been conferred many awards state, national and international along with n-number of film awards as well.
While Kamal Haasan has achieved tremendous success in his career, his personal life – which has been extensively written about – has seen quite a few lows. He was rumoured to have been in a relationship with Tamil actress Srividya in the 1970s, but it never culminated in marriage. The brilliant actor got married to danseuse Vani Ganapathy in 1978, but divorced a decade later. But the relationship ended acrimoniously with accusations coming out from both sides.
In an interview, the National Award-winning actor had accused Ganapathy of making him bankrupt and she retaliated. "Kamal can't just blame somebody else for his situation. Anyway, he was never the type who took the blame on himself — be it about his films or his personal life. He's just looking for somebody to blame all the time," she told the Economic Times in 2015.
"Honestly, I don't know if he was bankrupt at that time. I don't think he was bankrupt. But if he was, there could be other reasons. I could guess the reasons for his bankruptcy, but that's not something I want to discuss," she added.
The danseuse, who said that she walked out of the marriage, went on to allege that Kamal Haasan was trying to get sympathy from his elder daughter Shruti. She added, "If it's sympathy that is going to win Kamal what he wants from his daughter, he could have done the same without taking names. Even his family is upset at his claims."
When he met actress Sarika, the actor was still married to Ganapathy. When Sarika was pregnant, she moved in with Kamal, but the couple tied the knot in 1988 only after the birth of Shruti. Unfortunately, this marriage too bit the dust after 17 years when Simran allegedly came into Kamal's life. By then, Kamal and Sarika's daughters Shruti and Akshara were old enough to understand what was happening in their parents' lives. Sarika moved to Mumbai post the divorce in 2004 and the children went with her.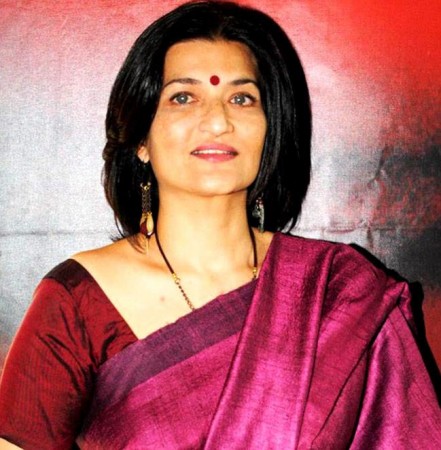 None of these relationships worked out for Kamal and in 2003, actress Gautami, who was divorced and had a daughter, moved in with him. He acknowledged her as his partner in public and she was given the respect accorded to his spouse by everyone. The media didn't make a big deal out of this live-in relationship and all seemed well for them too. There didn't seem to be a need for a formalisation of this relationship. But on November 2, Gautami announced to the world in her blog that she and Kamal were no longer together.
Over the last decade, Kamal has tried to mend his relationship with his daughters and has, in fact, become very close to them. 'Bapu' as Shruti lovingly calls him became the apple of the kids' eyes and they spent more time in Chennai with their dad than their mom. So, did his relationship with his daughters affect his personal life? There had been rumblings this year that the relationship between Gautami and Shruti had run into rough weather. While his earlier relationships fizzled out because of other women, this one seemed to have collapsed because of his daughter. But how far this is true is anyone's guess.
Kamal Haasan is someone who doesn't conform to the norms in society and likes to tread his own path both on-screen or off-screen. After two marriages the actor was clear that marriage was 'an imposition'. He told Hindustan Times in 2012, "All I can say is that marriage is a folly that is slowly becoming redundant. I have four vaccination marks. In our time, they were a necessary ordeal. It's different today. I'm hopeful that one day like the vaccinations, the institution of marriage too will go away."
While he wooed innumerable women on-screen successfully, Kamal's personal life has also seen its share of women. But the actor has always respected the women he has been with. He said, "I've never believed in marriage. It was only because I loved the women that I went through it to please them."
Despite his share of heartbreaks, Kamal has not lost his zest for life and he has never shied away from love. He has always been open about his relationships to his family and daughters. He seems more pragmatic as far matters of the heart go - if you don't love someone or a relationship doesn't work, then you just move on. Kamal has never spoken too much about the failure of his relationships nor gotten into the blame game. He doesn't go to the media dissecting each relationship either. But he moved on in his own way.
As he turns 62 today, Kamal is single again and there is likely to be a whole host of women who would love to part of his life. He keeps re-inventing himself on-screen to make him a better actor and explore new horizons. And he has been doing that in his personal life as well - he became a great father, a good partner and a better human being. As he grew older and more mature, the nature of his relationships changed and evolved as well. Here's wishing the Ulaganayagan more love and happiness on his birthday!