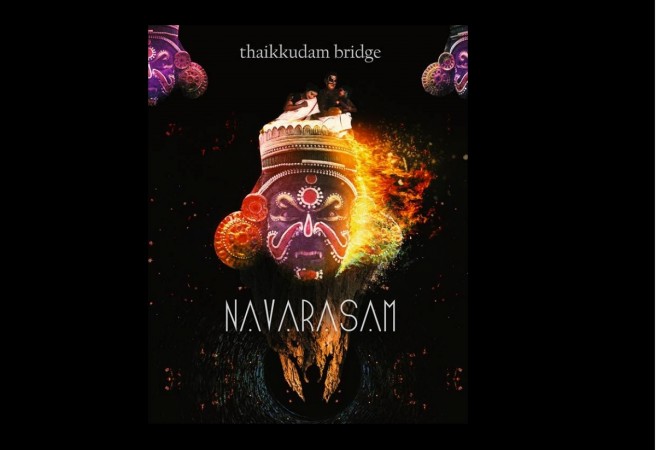 Since the Music Mojo performance titled Nostalgia, Kerala-based music band Thaikkudam Bridge has gained popularity, not just in the state, but also among music lovers all over the world. The team has now come up with its original tracks under the category Navarasam.
"Everything you can imagine is real. When you perform Kathakali the body syncs in its entirety to the art. The Navarasas claim dignity and then follows the fascination to the characters.To the maestros who mesmerised us as who they never were, we dedicate "NAVARASAM" [sic]," the team posted on the band's Facebook page while sharing the video.
Oscar winning music composer AR Rahman has shared the Navasaram video on his Twitter handle on January 28.
Check out this tribute to the masters of Kathakali by @thaikudambridge
Ulaganayagan Kamal Haasan is all praise for the new song and wished the music band all the very best via his social media page on Thursday, January 19.
I want to own up talent anywhere in the world as my relatives. Especially when they are this close to home, cannot but feel proud. The very best to Thaikkudam Bridge.
VijayamuNdaavatte
Priya sahodaran
Kamal Haasan
Even other celebrities, including Deepak Dev, Neeraj Madhav, Anoop Menon, Sachin Warrier, Bijibal, and Aishwarya Lekshmi have lauded the team of Thaikkudam Bridge for the new song and video.
Deepak Dev
An awesome brand new track from thaikkudam bridge ..... Do watch it guys .....
Neeraj Madhav
Amazing work Thaikoodam !
Bijibal Maniyil
NAVARASAM ❤vipinlal❤ wonderful video
Anoop Menon
A spectacular work of art...Thaikkudam bridge makes a giant leap..loved
Sachin Warrier
This is sublime stuff from Thaikkudam Bridge. An intense song sung beautifully by Vipin Lal, made even more intense by the video shot by Littil Swayamp. Loved this :)
Aishwarya
From the first notes of violin,the opening shots,the voice ,the actors, and the bloody brilliant concept and its even briliant execution! #NAVARASAM was the an Awwwww to my eyes and ears and It spoke directly to my soul!! Vipin lal chetta!!That voice is so divine...Govind P Menon ,Superamazingman should be your middle name!! How do you do this every single time!!!!!! #littlswayamp You are effing tooooo good!!! #Thaikudambridge Much much Respect guys!!
Directed by Littil Swayamp, the track, for which lyrics have been penned by Dhanya Suresh, has been sung by Vipin Lal and it has been garnering amazing response from audience. The video features Prayag, Kalamandalam Neeraj, Kalamandalam Nimisha Neeraj, Pranav, Adityan, Nilansha Malur, Kalamandalam Pradeep and Mallika Pradeep Kumar.
Watch the Navarasam track here: