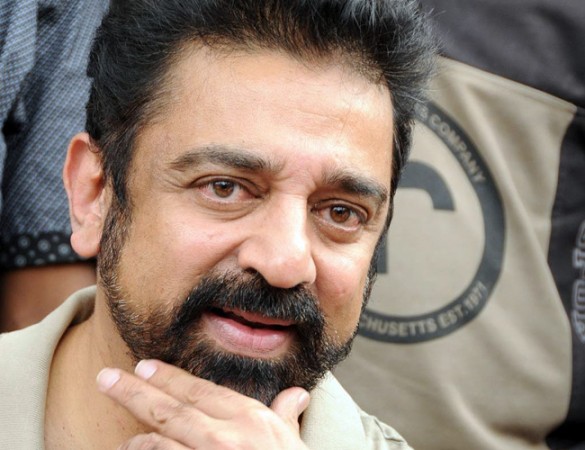 Kamal Haasan, who has been talking about corruption and attacking the ruling AIADMK in Tamil Nadu for months, has now targeted the Hindu extremism.
In his weekly column in a Tamil magazine, the Ulaganayagan has said people can no longer deny the existence of Hindu extremism.
"Earlier, Hindu rightists used have just intellectual debates with those of differing views through which they provoked their opponents to violence. With the approach failing to yield desired result, people have resorted to violence. The extremism has now spread among the Hindus as well," Kamal Haasan wrote in Ananda Vikatan.
Kamal Haasan also talks of the demonstration of muscle-flexing in the way religious functions are held in Tamil Nadu.
He references Ganesh Chaturthi in Tamil Nadu going from quiet ceremonies at home a few decades ago to public celebrations rivalling those in Mumbai.
He adds that the popular mantra "Satyameva Jayate" (Truth alone Triumphs -- a motto that appears on the famous Ashoka Pillar in Mehrauli) has now been replaced by "strength alone triumphs."
BJP hits back
BJP leader Subramanian Swamy has slammed Kamal Haasan for his views on Hindu extremism.
"He can do anything at anytime. I don't think that one needs to take seriously what he says. I think our NIA [the National Investigation Agency] should visit him and ask him what proof he has," Swamy told Times Now.
"Kamal says the caste identity of Tamil film stars was being discussed openly on the internet these days. It only shows the failure of the Dravidian movement to create a society free of caste identity. Caste parties have proliferated in Tamil Nadu only during the last three decades, when the DMK and AIADMK have ruled. Likewise in Kerala extremism has grown only under Left and Congress governments. So where is the BJP's role in this?" BJP spokesperson SR Sekar said of the actor's views.
Political plunge soon?
In his previous column, Kamal Haasan had written that youngsters were waiting to be united as a force and he has the duty to bring coordination among them.
"I am going to make an announcement on November 7 about a 'mode' through which I will communicate with them without any hindrance. This will be not to interact but will be one of training and workshops that will make plans," he had written back then.
Kamal Haasan will launch the app of this "platform" on his 63rd birthday on November 7.