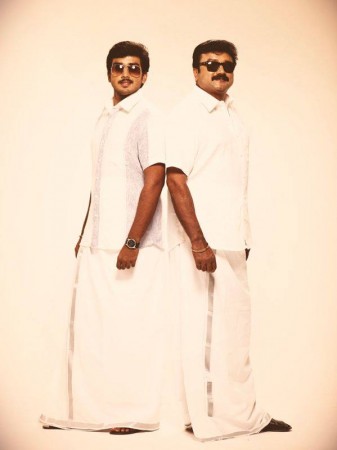 The mimicry performance video of Kalidas Jayaram, posted by Vijay Television, has received nearly a million views on YouTube. Kalidas, son of the South Indian actor Jayaram, had performed at the recent Vijay Television awards in Chennai.
Kalidas' performance video became an instant hit online and the young actor was appreciated for his effort.
During the award function, both Jayaram and Kalidas were invited to give away the Best Debutant Actress award. When the young talent was asked whether he can perform mimicry like his father, he went on to do it without any hesitation, but nobody had a clue that they were going to witness an extravagant show.
Kalidas, who began imitating Suriya, received heavy applauds from the audience. He then went on to imitate Ajith, as in "Veeram" and "Vaali" (1999) as per the audiences' request. This was followed by mimicking Vijay. Interestingly, Suriya and Vijay were present during the award function.
"It was a surprise for me too! I know that he has inherited my mimicking talent but he always shied away from it in front of me. Once his college principal called me and congratulated saying that his mimicry performance at some college event was awesome. But whenever I asked him to do so, he would say, 'Nothing appa, it's all 'chumma'," said Jayaram to Times of India.
"However that day, at the dais of Vijay TV awards, he really surprised me. What's more, it moved me. Now the video has gone viral and accolades are pouring in from all quarters. I would say, being a parent, what more can I ask for? When we went to the dais, Aswathy (Parvathy) was tense but now she is the happiest mom. Such small things are the true pleasures of our family," he added.
Kalidas has proved himself as a talented actor and his performance at the Vijay Awards is considered as his return to film industry. He made his debut as a child artist in Sathyan Anthikkad's "Kochu Kochu Santhoshangal" (2000). The young talent received the National Award for the Best Child Artist in his second film "Ente Veedum Appoontem" (2003) directed by Siby Malayil. Interestingly, in both the films, he played as Jayaram's son.
"There is no doubt that his ultimate passion and aim is the movie industry. However, there are no plans for his immediate launch. Yes, there are offers coming his way, but ultimately, it's his decision to choose the path. Once he told me, 'Appa, when the right time comes, I myself will inform you.' And now, I am waiting for his word," added Jayaram.