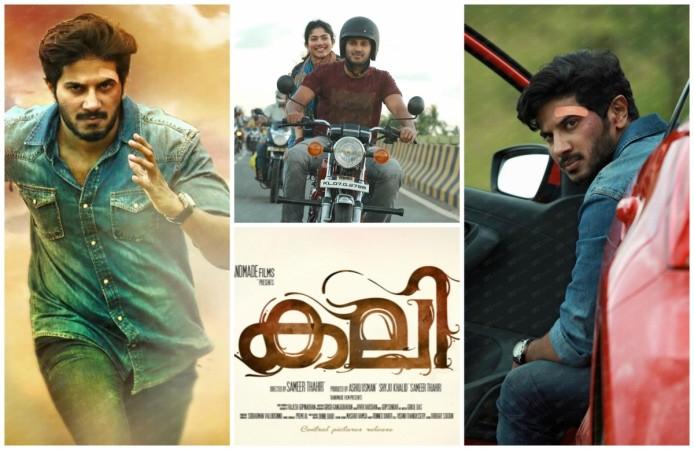 IBTimes India Rating: 3.5
If you are a short-tempered person or if you know someone who is very poor in anger management, then you can easily connect with the character Siddharth, played by Dulquer Salmaan, in "Kali." Even if you are a calm person, there are certain issues shown in the film that you can easily relate to in your day to day life.
In director Sameer Thahir's family thriller "Kali," certain issues that happen in the life of Siddharth, who has "anger at the tip of his nose," are being narrated. Siddharth and Anjali are college-mates and the couple gets married and live together without their parents' permission. Siddharth finds a job as a customs relation officer in a bank. Even though he is quick-tempered, it is his wife Anjali, played by Sai Pallavi, who stands by him to bring changes to his behaviour.
Also read: Kali 3 day box office collection
However, like many cliché movies, "Kali" doesn't show the transformation of an aggressive Siddharth to a good saint, but the movie narrates how a person's anger can result in many problems.
Be it a pat on the back or the sound of a printer, Siddharth gets irritated very easily that he is unable to manage his temper. Dulquer has acted as an angry person many times before, but this is the first time he is portraying this avatar throughout a flick and he has done justice to the character by convincingly showing the mannerisms of an aggressive person.
Sai's shift from the sari-clad Malar miss in "Premam" to modern and bold Anjali in "Kali" proves she is going to have a great future in the industry. Sai, who hails from Tamil Nadu, has to be appreciated to taking up the challenge of dubbing herself for the flick, even though there were certain portions that sounded odd.
Chemban Vinod has once again proved he is not just a comedian, his portrayal of the character Chakkara (lorry driver), was impressive and scary. As always, Vinayakan (Johnettan) also lived up to his role as an antagonist. Soubin Shahir (Prakashan) is like icing on the cake, the only comedy character seen in the movie.
After a mixture of romance, comedy and short temper in the first half, the second half of "Kali" goes through some nail-biting moments that are filled with action and terror on the isolated roads to Masinagudi. Even though the movie lacks a proper storyline, "Kali" is engaging — all thanks to the onscreen chemistry of Dulquer and Sai — combined with Gireesh Gangadharan's cinematography and Rajesh Gopinathan's script.
In short, "Kali" will not disappoint Dulquer fans as the actor, who is often known for his silent nature, has transformed himself to a short-tempered person quite convincingly. The movie is sure to entertain and open the eyes of people who get irritated very easily.