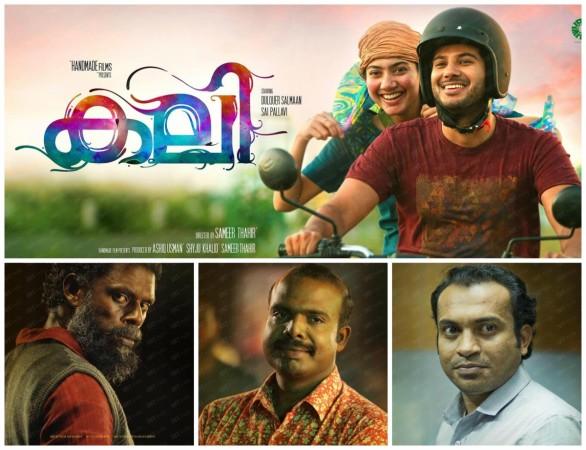 Celebrities and fans alike are showering accolades on the Dulquer Salmaan, Sai Pallavi-starrer "Kali," which was released March 26. The movie had made a record opening day collection at the Kerala box office.
Director-actor-singer Vineeth Sreenivasan applauded the movie on his Facebook page, saying, "Just came back after watching Kali.. A very entertaining film with some good performances.. I am a big fan of thrillers and this one kept me engrossed all the way till the end.. loved the sound design of the film.. Dulquer and Chemban chettan stole the show.. Sameer kka, ee Kali kalakki [sic]."
"Watched ‪#‎Kali‬. A well crafted realistic thriller from Sameer Thahir ikka with a very natural performance by DQ.. A different but sweet one from our malar miss.. DQ, special appreciation for your hard work in making 'siddharth' into a perfection.. Kudos to the whole team of #kali! [sic]," wrote actor Sunny Wayn.
Scriptwriter Akhil Paul, who is known for the Prithviraj Sukumaran starrer "7th Day," also praised the entire team of the film.
"Watched Kali. An impressive movie backed by a powerful performance from DQ, Chemban Vinod Jose, Vinayakan and Sai Pallavi. A solid work from Director Sameer Tahir. The Cinematography by Gireesh Gangadharan, Editing by Vivek Harshan, Background Score by Gopi Sundar, Sound Design by Sound Factor and especially the slick action choreography deserves a special mention in knitting together a wonderful narrative. Overall a film well worth watching and a quality entry in this year's list of Popular Hits."
Dulquer has also thanked all his fans and well-wishers for accepting the movie wholeheartedly. "Getting lots of love from everyone for ‪#‎Kali !! This is what we live for ! Thank you for giving me the courage to try different roles and scripts," Dulquer posted on his Facebook page.
"Kali" is a family thriller directed by Sameer Thahir, which narrates a few incidents that happen in the life of a short-tempered person. It is the second outing of Sameer and Dulquer, after the 2013 road movie "Neelakasham Pachakadal Chuvanna Bhoomi." The film has collected approximately Rs 6.82 crore within four days of its release at the Kerala box office. The movie made a record opening day collection of Rs 2.33 crore, surpassing the previous records of Mohanlal's "Loham" and Dulquer's State Film Award winning movie, "Charlie."
[1 lakh = 100,000 | 1 crore = 10 million | 100 crore = 1 billion]