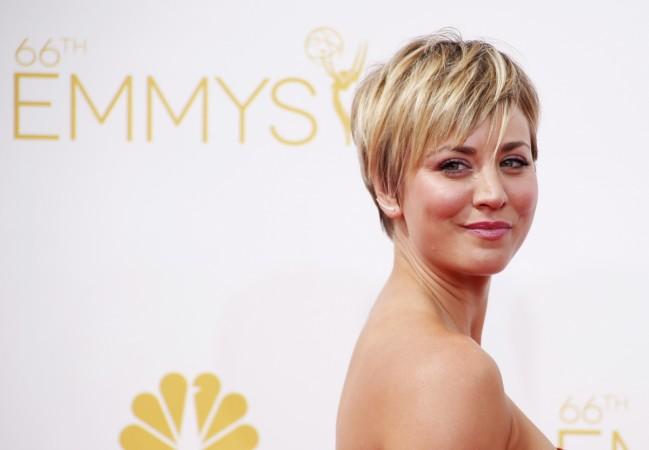 Kaley Cuoco was seen flaunting her toned legs on Sunday, as she stepped out of her Yoga Class at Studio City in California.
The actress was spotted in a pair of black Lycra shorts, a grey t-shirt and a pair of gradient-lens sun-glasses. Despite the sunny weather, she chose to wear brown sheepskin boots. Her look was completed with pinned-up hair, grey yoga mat and a black shoulder bag.
She is known for her dedicated fitness routine and maintaining a healthy body-weight. On various occasions she has been spotted coming out of her yoga class and also going for horse-riding sessions.
"It's the perfect combination of a mental and physical workout. After an hour, I'm exhausted. I work muscles which I don't use otherwise – My legs, butt, core everything is sore," Cuoco said about her horse-riding sessions, according to Healthy Celeb.
The actress reportedly likes to have a heavy nourishing breakfast. Her menu includes skimmed milk, fruits and granola, completed with an occasional Subway sandwich.
"I'm a good eater and like to make my own meals. I can't get enough of the 6-inch vegetarian whole-wheat sandwich from Subway. I pick one up after my Spin class and pile jalapenos and onions on it to spice it up," she described her love for the Subway sandwiches, as per Shape.
Meanwhile, Cuoco and Ryan Sweeting are once again battling the divorce rumours. The couple is rumoured to be "sleeping in different rooms," according to Epoch Times.
However, these rumours seem to be untrue as the couple was recently seen together at the ELLE's Women in Hollywood Awards. Complementing each other, both had dressed in black ensembles.
The couple would soon be celebrating their first wedding anniversary on 31 December 2014. They got married after a courtship of six months. Before getting married to Sweeting, "The Big Bang Theory" actress was dating Henry Cavill.