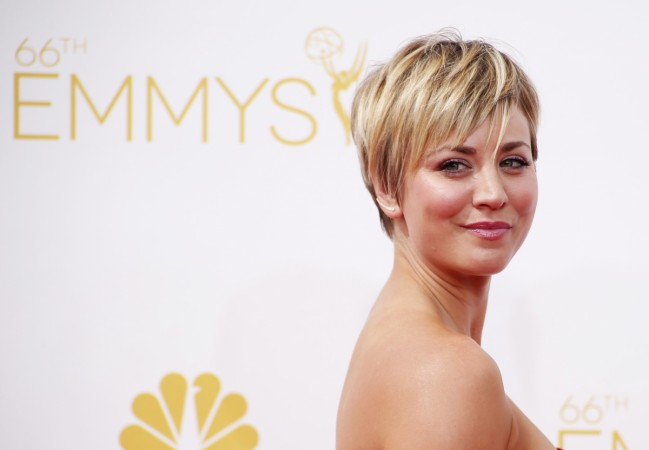 Kaley Cuoco and her husband Ryan Sweeting have been dogged by rumours of a troubled relationship for quite a while now but they seem to be going strong. "The Big Bang Theory" actress recently played down the reports by sharing an intimate black and white photo on her Instagram page.
Kaley Cuoco is seen nudging at Sweeting's neck in the picture captioned: "Love is a condition in which the happiness of the other person is essential to your own."
The snapshot got more than 9000 likes and fans were quick to point out that they are happy to know that all is well is Cuoco's married life.
Sweeting and Cuoco tied a knot on 31 December 31 last year. The couple decided to marry within a few months of dating, according to the reports. Cuoco said in an interview that they didn't wait long to get married after a blind date.
"He came to L.A. for a blind date — and he never left. We had been texting, we texted a little bit. Dinner was great, and then he moved in the next day. I know, it sounds so slutty, but it wasn't! It all did move quite fast on paper, but we really did know... And I know you're all thinking, 'She's nuts!' I swear I'm not nuts. We just fell in love," Cuoco told David Letterman according to Inquistir.
It is also reported that Cuoco is running the family, as Sweeting, who is a tennis player, is not playing in any major leagues. However, nothing has been confirmed in this regard and it seems all is well between the couple.
Meanwhile, the 28-year-old actress has spoken about starting a family. She told Ellen DeGeneras that she is ready to have kids.
"We can't wait! We both want kids. We actually just rescued another dog. Everyone who knows me knows I'm a big dog lover," Just Jared quoted Cuoco as saying. "Got a real small one a little rescue. Her name is Ruby and we do want to have kids."
Cuoco is currently seen playing Penny in the popular sitcom, "The Big Bang Theory" season 8. The actress is reportedly paid $1million per episode.