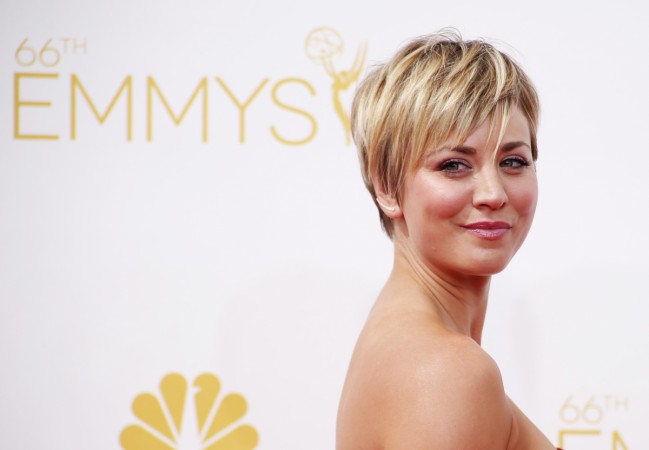 Kaley Cuoco's new hair cut doesn't seem to be going well with her fans. The actress, who plays Penny on the popular CBS's sitcom "The Big Bang Theory," has been sporting pixie haircut on the show for a while, but the fans think it is just not suiting her character.
Many of her fans once again took to twitter to express their disappointment, saying that they are unhappy with Cuoco's haircut and can't get use to it. Here are some recent Twitter reactions:
Kaley Cuoco's haircut looks worse and worse every week. #cabbagepatchkid

— Sam Kooby (@jesusraves420) November 7, 2014
Watching #BigBangTheory - I just can't get over #KaleyCuoco's Tinkerbell haircut - is she auditioning for a Peter Pan movie? — William Uchtman (@Thor_2000) November 7, 2014
Two things I will never understand, 1) zonal marking, 2) kaley cuoco's new haircut, #needanswers #bizarre

— Robert Wiltshire (@robbowiltshire) November 5, 2014
Cuoco shocked her fans by chopping her hair in June, as she has been sporting long hair for the last 20 years. She was raved by her fans for her cute looks when she appeared on the televsion scene with "8 Simple Rules" and her character Penny in "The Big Bang Theory" became a household name but it seems the sudden change in her looks still upsets her fans.
Cuoco said after the shooting of "The Big Bang Theory" season 7 that she wanted to "reinvent" herself and that was one of the reasons she chopped her hair short.
"And I kept seeing people cutting their hair shorter and shorter, and I thought, it's only a few more inches, and I talked to my hair dresser and we cut it. I loved it, I didn't want to stop. I am surprised I did not shave my head," said the actress to Women's Health as quoted by ET.
Cuoco's new look was incorporated in the series by sending her character Penny for a haircut. It was explained as a part of Penny's career change from a struggling actress to a pharmaceutical rep. The actress said that the reason for her haircut was a movie role and when she was returning for the show she was ready to use hair extensions but the show creators thought it could be a great change for Penny's character graph, according to Entertainment Weekly.
Meanwhile, Kaley Cuoco recently shared the pictures of her Halloween celebration. In the pictures, she and her husband Ryan Sweeting were seen dressed up like Selena Gomez and Justin Bieber. To add a little twist to the look, Ryan was seen in a wig and a black dress whereas Kaley threw on a hoodie and covered her arms in tattoos. She captioned her picture as "Biebs and Selena," and it got more than 37.7 likes. The couple will celebrate their first marriage anniversary 31 December, 2014.