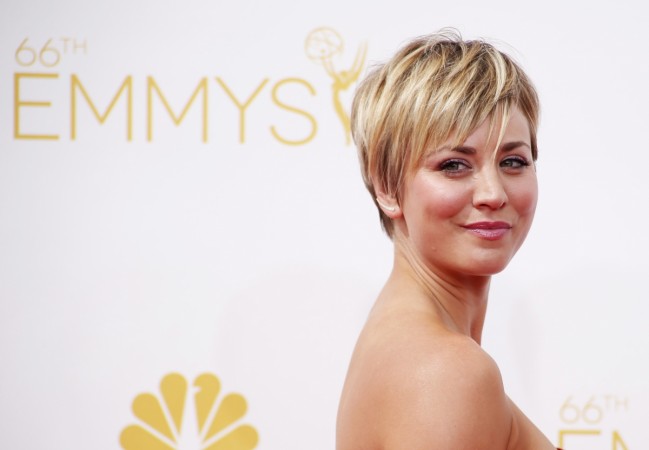 The grapevine is abuzz with the newsa that Kaley Cuoco might quit " The Big Bang Theory" as she is planning to extend her family. It is reported that she wants to have a baby soon and has told the bosses of the show to "work around " her plans.
It was Ok magazine that broke the news of Cuoco's pregnancy plans. There is no confirmation to the rumours of the actress' pregnancy but she has been very vocal about her wish to become a mother.
"I can't wait, he (husband Ryan Sweeting) can't wait, "she said about her pregnancy plans to Women's Health magazine, adding, "I feel like I'm meant to be a mom."
Cuoco married tennis pro Sweeting in September 2013 after dating for three months. The couple has already moved in to the mansion they bought from divorced couple Khloe Kardashian and Lamar Odom.
The magazine also claimed that Cuoco and Sweeting have already decorated the nursery of their future child and have painted it in yellow. The room chosen by the couple is apparently Odom's man cave which was a partying hub.
"It's so funny—that room was the scene of a lot of partying," said the source to the magazine.
Meanwhile, there is no confirmation to report that Cuoco is planning to leave her famous show. The shooting for "The Big Bang Theory" season 8 has already began. In season 7, Johnny Galecki's character proposed to Cuoco's character and she said yes. The upcoming season could see a wedding them walking down the aisle.
"Starting off our season 8 with a bang! Thank you for all the love and support! We are thrilled to be back!!! #bbt #season8 #epic #shownight #howisthiscalledwork?!" Cuoco wrote on Instagram last month.
It has also been confirmed that the main lead of the show, Parson, Cuoco and Galecki would be getting $1million per episode as per the renewed contract, according to a report by Deadline.
It is reported that "The Big Bang Theory" has been renewed for three more seasons. The cast of the show includes, Kaley Cuoco, Jim Parsons, Johnny Galecki, Kunal Nayyar, Simon Helberg, Mayim Bialik, and Mellisa Rauch.
Season 8 of CBS' popular itcom will return on air with a one-hour premiere on 22 September, 2014.