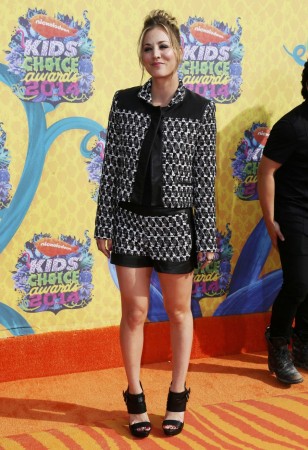 Rumor has it that " The Big Bang Theory" actress Kaley Cuoco and her tennis pro husband Ryan Sweeting are facing marriage troubles. The June 30 print edition of Star magazine suggested that the recently married couple are facing jealousy issues.
Apparently, the couple's wedding troubles came to surface when they got into a fight at an engagement party. Cuoco did not know many people at the event and wanted Sweeting to stay by her side, which eventually led to a spat between the two, says the report.
"Kaley looked like she didn't want to be there," Hollywood Gossip quoted a source from the magazine. "Ryan told her to relax, and that's when all hell broke loose. She snapped back and told him where to go. She didn't know many people at the party and felt like he was being irresponsible not looking after her. It wasn't pretty."
Cuoco is understood to be vying for Sweeting's exclusive attention, which is turning out to be problematic.
"A pattern has emerged in the relationship that leaves Kaley looking like a jealous monster. She wants Ryan's undivided attention all of the time and when he focuses on anyone else she loses it," Travelers Today quoted a source.
It has also been reported that Sweeting has befriended "New Girl" star Zooey Deschanel against Cuoco's wish.
"Ryan doesn't have many friends in LA, so he's reached out to Zooey a few times to get together," said the source, adding that Sweeting has been asked by Cuoco not to spend time with Deschanel.
Cuoco and Sweeting jumped into whirlwind marriage within six months of dating. They exchanged vows on December 31, 2013 in a state of art ceremony and even got inked with the wedding date.
Soon after her marriage Cuoco had suggested to Ellen DeGeneres during the latter's talk show, that Sweeting is a fantastic husband and she has never been happier.
"I had kind of an interesting situation over the summer and I was kind of in a weird place and a very close mutual friend of ours said, 'Oh my God. Have you met this guy Ryan?' I was just not in a good place to meet anyone. I said, 'I'm not ready. I'm taking time away from love for a while.' I was very sad. And they said, 'You know, he's coming to town. You've got one day to meet him. Have a drink and meet him," she said.
However, neither Cuoco nor Sweeting have confirmed the rumors of wedding distress.