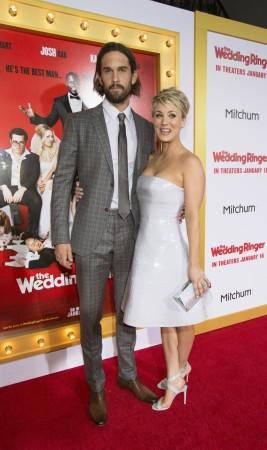 On Easter, "The Big Bang Theory" actress Kaley Cuoco attempted to put an end to all divorce rumours for once and for all. On 3 April, Cuoco posted pictures of her husband Ryan Sweeting to let her fans know that she and her better half are not splitting up, and also that she is not pregnant.
"4 weeks apart and finally reunited - I missed this guy more than anything!!" The post ended with "#notpregnant", putting to rest pregnancy rumours as well.
But, it was being speculated that the couple were just trying to hide their divorce news till everything got sorted. So, Cuoco finally tied all loose ends after she posted a picture of Sweeting during a match, saying that since Easter is a day to spread happiness and joy, she is proud of her husband and that they are still going strong.
"I have never been more proud of anyone on this planet- this guy is fighting back from a whirlwind of injuries and not to mention constant "conversation" regarding our marriage and basically any daily decision we decide to make," she wrote in the caption and added, "if you were smart, you would take a look at your own marriage, relationship, job etc, instead of focusing on someone else's. You might be surprised at what you find."
Rumours about Cuoco and Sweeting started doing the rounds after the couple decided to get engaged only after three months of dating. The pair got married eventually on New Year's Eve 2013 and she said that she never gave it a second thought because "from day one, I just knew immediately and it's been magic."
The actress attended Kids Choice Awards a week ago, hoping "to show the world how not pregnant" she is as she sported a crop top and a long skirt.