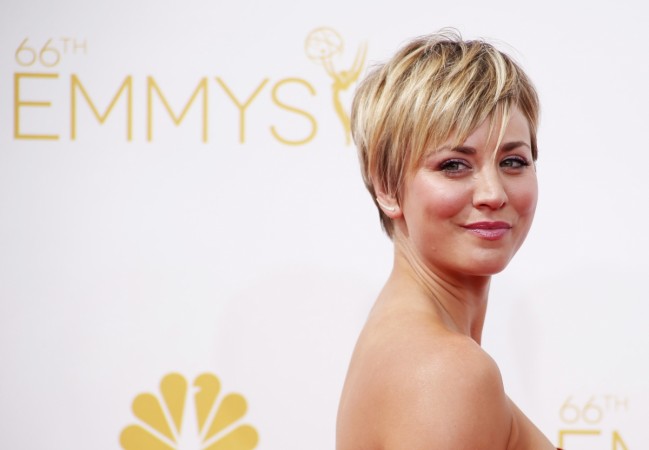 Kaley Cuoco-Sweeting has been in news for all the wrong reasons off late. After being plagued by alleged pregnancy rumours, the grapevine is abuzz with the news that her famous pixie haircut will be incorporated into the upcoming season of " The Big Bang Theory."
Cuoco was previously reported to be wearing hair extensions for the show but now the writers have written a scene about Cuoco's character's haircut. Her haircut will be addressed in the first episode of "The Big Bang Theory," according to the reports.
It is not sure how the transition will take place but a slew of speculation has been doing the rounds, including one that said Cuoco's character Penny might chop off her hair over a glass of wine or let go off them for a movie audition.
To let the fans get use to the idea of Penny's pixie hair cut, Cuoco shared some scenes from "TBBH" on her Instagram where she is seen sitting with the geeky gang in her new avatar.
Meanwhile, Cuoco's character will also tie the knot with Johnny Galecki's in the new season. It has been reported that Galecki's character Leonard will plan the wedding.
"If I could write it myself, I think Leonard will be more of the bride, because I think it would be funny if he were the planner. Penny is so aloof, she'd be a lot more easy-going than Leonard," Cuoco said in an interview to TV Line.
Penny and Leonard got engaged in the "TBBH" season 7 finale, and Sheldon played by Emmy award winner Jim Parsons, was shown leaving on the train.
Fans also can't wait to watch how Sheldon is brought back to season 8.
"TBBH" has been renewed for three more seasons and the lead cast, Cuoco, Galecki and Parsons have received a massive pay hike for the upcoming seasons.
"There is nothing daunting about that. I think anybody would like to know that they have a job for the next three years, so I was completely on board with that, and very grateful and excited. It's such a rarity to know that you have a place [to work] for the next couple of years," added Cuoco when asked about working on "TBBH" for three more years.
"The Big Bang Theory" season 8 returns on CBS in October.