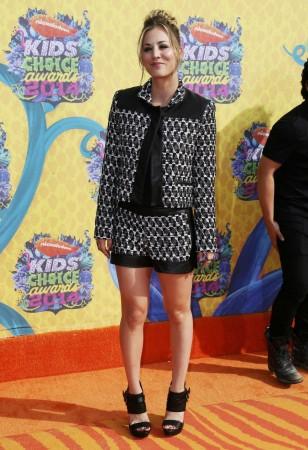 "The Big Bang Theory" actress Kaley Cuoco has no regrets about getting breast implants at a young age of 18. The 28-year-old actress opened up about her cosmetic surgery procedure to the May issue of Cosmopolitan magazine and said that getting breast implants was the "best decision" of her life.
Cuoco underwent breast augmentation procedure in 2004 before she starred in "8 Simple Rules".
She also admitted that when she was starting with "8 Simple Rules" she was obsessed with her image and started putting on make-up just to be liked by the media shutterbugs.
"I started reading [online reports] and thought, 'Maybe I need to make more of an effort and not go out in my UGGs and be disgusting.' So I started putting on make-up. And they started writing, 'Wow, someone really likes being in front of the camera' and 'Her hair's done now for coffee.' I couldn't do anything right. Why am I reading this stuff? But I'm obsessed. I openly admit to being totally insane about that," she added.
Not only Cuoco got candid about her cosmetic surgery and image obsession but also about her 10-day relationship with "Superman" actor Henry Cavill. The actress said that she became cynosure of media, after she started dating Cavill and it was a kind of recognition she has never gotten before
"I had no one following me until I met Superman. I've been in this business for 20 years and my whole life, I could go anywhere, do anything. There had not been one paparazzi photo of me until like several months ago. The recognition was crazy."
It is interesting to see Cuoco open up about her life choices and her past romantic flings. Cuoco is now married to Tennis pro Ryan Sweeting whom she met six months before tying the knot. The couple had a breathtakingly beautiful wedding and are happy together.
(Edited by Vanilla Sharma)