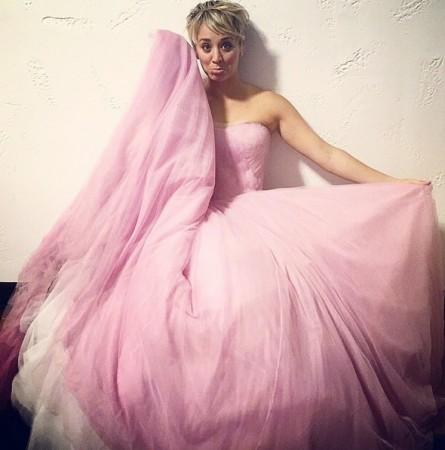 In an attempt to silence haters who have been predicting her divorce from husband Ryan Sweeting, "The Big Bang Theory" actress Kaley Cuoco uploaded a photograph of hers wearing her wedding dress on Instagram.
The photograph of Cuoco in the pink Vera Wang creation appears to be an act of defiance, according to various reports, and proof that her marriage is not on the brink of divorce, as claimed by haters.
The 28-year-old wore the same outfit the second time as she filmed a clip for a song by Aloe Blacc that will be featured in her upcoming movie, "The Wedding Ringer." The film will hit theatres on 16 January and stars Josh Gad and Kevin Heart along with Cuoco, who will play a bride in the movie.
"I got to wear my wedding dress for a second time! I feel giddy! #weddingringermusicvideo @aloeblacc @verawanggang," she captioned the photo.
As for her personal life, Cuoco and Sweeting, who got married last year on New Year's Eve, have been plagued by divorce rumours just a few months into their marriage. Although she attempted to put these rumours to rest by uploading pictures of Sweeting and herself having a good time together, rumours continued to grab headlines.
Neither Sweeting nor his actress wife have directly addressed these split rumours.
The latest talk suggests that Cuoco's friendship with "The Big Bang Theory" actor and former boyfriend Johnny Galecki has put a strain on their marriage. Reportedly, Cuoco is insecure in her relationship with her tennis-player husband, and she is attempting to make him focus his attention on her by attempting to make him jealous.
Earlier reports even claimed that Sweeting is sleeping in the guest room because he is "tired" of the actress' "erratic behavior." "She's started bossing Ryan around and treating him like a houseboy," a source claimed, according to Inquisitr. "They've been fighting a lot because he tells her she's not a star at home."