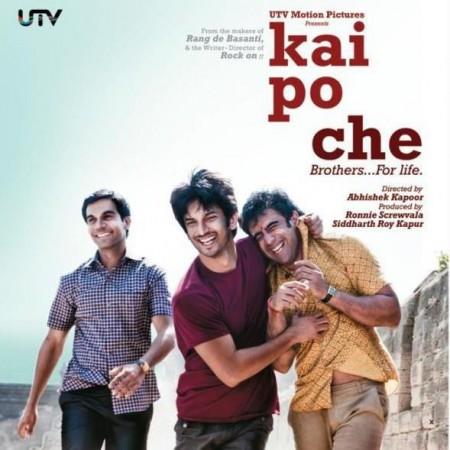 "Kai Po Che!", directed by Abhishek Kapoor, is a film based on Chetan Bhagat's novel "The 3 Mistakes of My Life". The film stars three new comers - Sushant Singh Rajput, Raj Kumar Yadav and Amit Sadh - in the lead roles.
Despite no big star cast, the film's refreshing subtlety and brilliant theme won the hearts of critics and celebrities from the Hindi film industry.
Check out here what critics have said about the film:
Taran Adarsh of Bollywood Hungama said: "KAI PO CHE cannot be slotted in any particular genre, in my opinion. It depicts unconditional friendship, it portrays bromance as well as romance, it illustrates politics, it exemplifies the passion for a sport [cricket], it talks of the events that unfolded in Gujarat [earthquake, Godhra massacre and the riots]. Multi genres, you could say. But, at heart, KAI PO CHE remains an emotional saga of three friends and how it stands the test of time. Very similar in spirit to the director's previous outing ROCK ON!, Farhan Akhtar's DIL CHAHTA HAI and Zoya Akhtar's ZINDAGI NA MILEGI DOBARA, yet different.
"In KAI PO CHE, Abhishek brings alive the characters and events most persuasively. He borrows from the novel, but at the same time adds a lot to it with his deft execution. Resultantly, what emerges is a movie that evokes myriad emotions in the viewer. You smile, chuckle, get anxious and jittery, also moist eyed on several junctures.
"On the whole, KAI PO CHE is brimming with solid content. Watch it for the spirit it is made in. Watch it because it's the kind of cinema that pushes the boundaries. Watch it because movies like KAI PO CHE need to be encouraged. A film that deserves an ovation!"
Rubina Khan of Firstpost said: "Kai Po Che, set in 2000, is a story about the three musketeers of Gujarat - Ishaan Bhatt (Sushant Singh Rajput), Omi Shastri (Amit Sadh) and Govind (Raj Kumar) - inseparable childhood friends, who like Alexander Dumas' characters, Athos, Porthos, and Aramis live by the "All for one, one for all" motto of the literary classic. Only Kai Po Che's director, Abhishek Kapoor, describes their camaraderie as "Brothers for life".
"It is refreshing to see the friendship of three young men on celluloid, without a woman stepping into the equation to cause an imbalance in the predictable film format. It is also devoid of dramatic dialogue, which makes them sound closer to real life conversations. But they have their own song and dance routines, with their lean frames jigging to the tracks, celebrating their new shop, life or an India cricket win.
"Kai Po Che, a screen adaptation of the book, The 3 Mistakes of My Life, written by Chetan Bhagat, is a good film, but not a great film."
Saibal Chatterjee of NDTV said: "Three buddies battle themselves and the world in pursuit of their dreams. So what's new? Over the last decade and a bit, Hindi cinema has spun many such tales with success (Dil Chahta Hai, Rang De Basanti, 3 Idiots, Zindagi Na Milegi Dobara). The broad similarities apart, Kai Po Che isn't the same kettle of fish - the film is set against the backdrop of the Gujarat riots of a decade ago. It is the first commercial Mumbai movie to go there.
"It might not induce instant superlatives. But Kai Po Che is a competently crafted, well acted and consistently engaging drama that makes its point without sinking into preachy paroxysms.
"It is in the casting that Kapoor achieves his greatest triumph. The three lead actors are absolutely perfect. Sushant Singh Rajput and Amit Sadh have the more emotionally intense roles. Not a step they take is false or unduly demonstrative. No praise would be enough for Raj Kumar Yadav. Delivering a measured performance as the self-effacing man lost in "the magic of numbers", he is a consummate scene-stealer.
"Kai Po Che is a must watch."
Tushar Joshi of DNA said: "Set against the backdrop of Ahmedabad, Kai Po Che is a story of friendship between Ishaan (Sushant Singh Rajput), Omi (Amit Sadh) and Govind (Raj Kumar Yadav). However, this isn't an ordinary story of bonding, but a kaleidoscope view of the dynamics between the trio that tests their relationship when thrown in the pan of fire ignited by the Godhra riots and the 2001Gujarat earthquake.
"The first half focuses on the camaraderie between the three, with light moments establishing their character traits. However, the second half is where the pace picks up as their town is caught amidst the Hindu-Muslim riots and scarred by the after effects of an earthquake.
"Kai Po Che! works because it is an ensemble effort. Sushant Singh Rajput makes an effortless debut as Ishaan. He shows the maturity of someone who understands that less is more. Amit Sadh scores in his big scene during the climax where he breaks down and is torn between choosing to seek revenge and honouring his friendship. However, the breakthrough performance has to be of Raj Kumar Gupta who plays Govind. A remarkable actor who takes on the skin of whatever character he is given, Gupta makes us forget his earlier work and leads us to believe that he was born to play Govind.
"Kai Po Che! works on more levels than it fails, and most of it is because of its brilliant execution. Watch it for the performances."