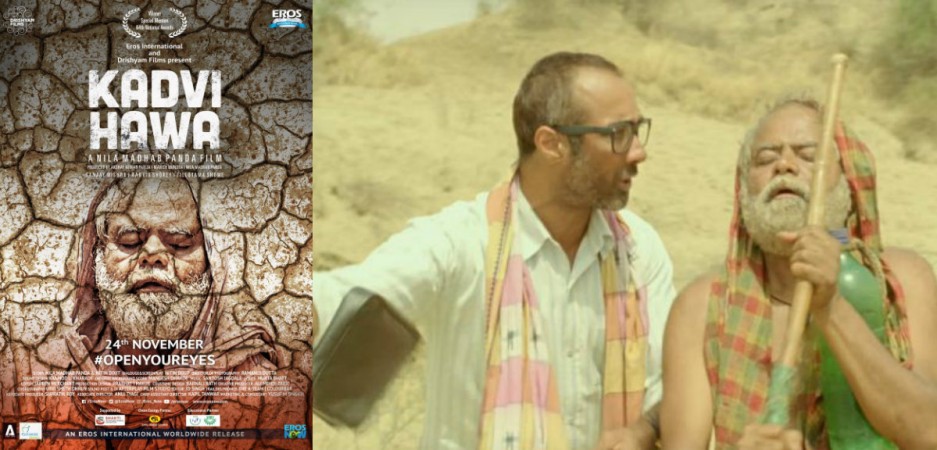 Apart from the erotic-thriller Julie 2, Bollywood movie buffs will be treated with a subject-oriented film, Kadvi Hawa, that delves deep into the impact of global warming on rural India and the lives of people there.
Directed by Nila Madhab Panda, the movie is a social drama, and has already won praise from Bollywood celebs and critics, who watched it at special screening ahead of its release on November 24.
Produced by Drishyam Films, Kadvi Hawa features Sanjay Mishra and Ranvir Shorey in lead roles.
The movie has touched hearts because it shows the reality of farmers. The film is based on true stories from drought-prone Bundelkhand region and the vanishing coastal villages of Odisha and Chambal region of Dholpur, Rajasthan.
Kadvi Hawa is about the consequences of climate change and how a farmer deals with it. The film has received a Special Mention at the 64th National Film Awards.
The woes of climate change impact is presented in the film through its lead characters played by Sanjay and Ranvir. Sanjay plays a blind man who lives in a desert, while Ranvir originally hails from Odisha.
The movie clearly brings out the pangs of farmers and how global warming is going to wreak havoc in the world at large.
The storyline as well as the performance of the actors have been lauded by critics and celebs.
Here's what Bollywood critics have to say about Kadvi Hawa:
IANS gave the movie 4 stars and wrote: "Kadvi Hawa is a timely relevant warning for mankind to stop being unkind to Earth. Mishra in his skimpy dhoti epitomizes the grievous isolation of an individual who is way too proud to take help, financial or otherwise, from any institution or individual. Standing stooped in his pride, Mishra proves himself quite the calendar boy for abject poverty. This film must not be missed by any global citizen."
Saibal Chatterjee of NDTV said: "Kadvi Hawa hits home with the force of a gale. It is designed to provoke contemplation and action, a mission that it achieves without any serious slips. Watch it because it is an important film that offers an essential takeaway."
Zinia Bandyopadhyay of Desimartini said: "The film overall is definitely a must watch. It should be watched, not as an entertainer but something that will enlighten you and bring you face to face with the gravity of a situation that we, the upper middle class and middle class very conveniently avoids."
Here's what celebs have to say: