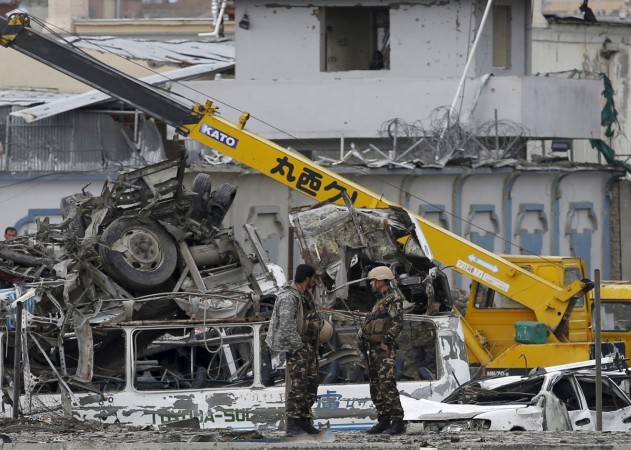 At least one blast ripped through Kabul's Dehmazang Circle during a protest rally and killed about 50 people and wounded dozens on Saturday. Hundreds of people were reportedly gathered at the location.
Three police chiefs were injured in the suicide attack at the Enlightening Movement rally by Hazara people. The demonstrators are regrouping in the area to continue with the protest.
Officials confirmed that three suicide bombers were present at the rally, the first one detonated themself, the second's vest was defective and the third bomber was killed by NDS officers.
An eyewitness told TOLO News that the person who detonated self was dressed in a burqa and standing among demonstrators of the minority community.
Casualties are feared to be high. The injured people have been taken to the hospital by security officials who reached the spot.
People from the Hazara minority group had been protesting against the change of route of a planned power line, which was initially cutting through Hazara community areas. The government had decided to route the 500kV transmission line from Salang Pass north of Kabul rather than Bamyan province.
One of the protestors at the rally had said "that road closures and blockades will not deter their struggle for justice."
"We are protesting against the decision of the government as our provinces have never seen development," Ali Ameer, one of the protest organisers, told Al Jazeera.
"This is a peaceful demonstration. Our aim is to make sure that the government listens to our demand without violence, because this decision is unjust and not the original plan."
The protest had been peaceful until the bomb attacks.
No group has claimed responsibility yet.
Twin Blasts Rips Through #Kabul Demonstration https://t.co/IfQLJqR3B1pic.twitter.com/4SU7O6TJ9u

— TOLOnews (@TOLOnews) July 23, 2016
Today's peaceful protest in #Kabul before suicide bomber struck. So many young men and women, proud w Afghan flags. pic.twitter.com/IBxQUPXtSP

— Danielle Moylan (@danielle_jenni) July 23, 2016