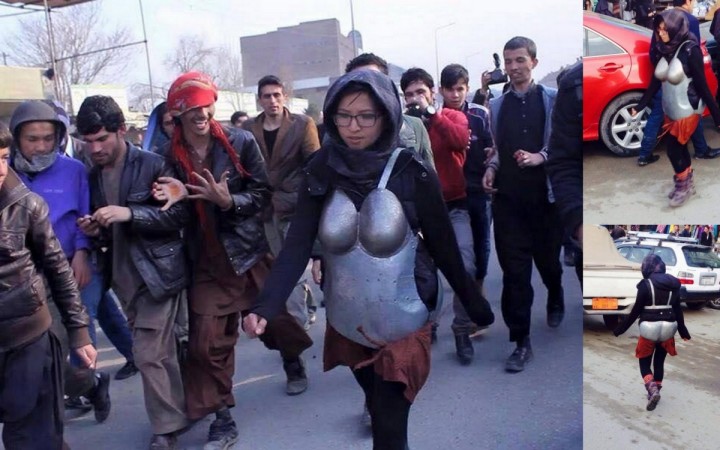 An Afghan woman who had tried protesting against eve-teasing and sexual harassment by walking around in Kabul streets wearing a metal body armour was stoned, punched and threatened by a jeering crowd of men.
Earlier last week, the images of performance artist Kubra Khademi wearing a metal suit that covered her breasts and buttocks went viral on social media.
Her innovative protest, which took place on 26 February in Kote Sangi - one of the busiest streets in Kabul, has now earned her the wrath of ultra-fundamentalists in Afghanistan.
Fearing for her life, Khademi - who holds a degree in Fine Arts from Beaconhouse National University in Lahore, Pakistan - is now living in hiding.
"Before I started, I prayed that I wouldn't get chased down and killed by a hostile crowd," Kubra Khademi told France24.
Her fears were well-founded as witinin minutes of her commencing the protest, men "started following me and insulting me. Some even started throwing rocks," she said.
Afghanistan is known for its infamous cases of honour killings, sexual harassment, forced marriage and domestic abuse. Khademi staged the protest to push for a change in the system and mentality of people in the region.
"Every since I was a little girl, I have had to put up with men touching me and insulting me in the streets of Kabul," she said.
Since her performance, several angry young men have been visiting her home and giving death threats.
Khademi is currently living in an undisclosed location as she fears for her life.
The problem is so rampant in Afghanistan that on 5 October last year, President Ashraf Ghani was forced to ask his government to introduce immediate measures to address the "shocking" level of sexual harassment in the country.