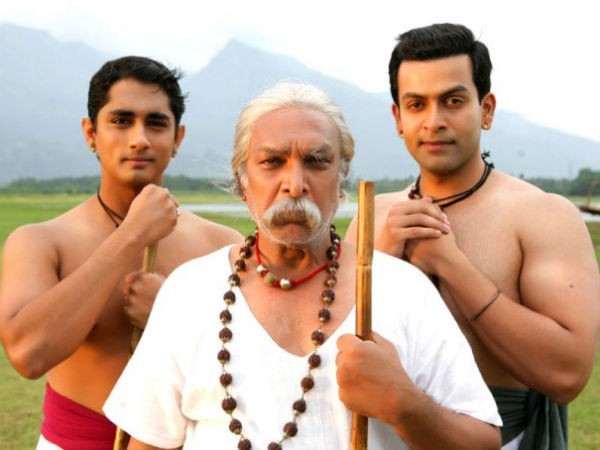 The Vasanthabalan directorial, "Kaaviya Thalaivan", has been receiving appreciation from all corners. The latest in the list is actor Vijay, who praised the cast and crew including actors Siddharth, Prithviraj and Vedhika, cinematographer Nirav Shah and music director AR Rahman.
Thankyou #illayathalapathi #vijay for appreciating #KaaviyaThalaivan & urging people to watch & celebrate the movie https://t.co/7IWlhF7xOv

— kaaviyathalaivan (@KTthemovie) November 29, 2014
"I saw the film "Kaaviya Thalaivan". It can be called as one of the most important and well made Tamil cinema in recent times. Films like this come rarely, so everyone should watch this film with family and celebrate it. Kudos to Vasanthabalan sir for taking up such a script in this background. Also a special congrats to the actors, Siddharth, Prithviraj and Vedhika and the technicians Nirav Shah and AR Rahman on their success," said Vijay.
The makers of the film were thrilled by Vijay's response, while the lead actors Siddharth, Prithviraj and Vedhika thanked Vijay.
"#Ilayathalapathy Vijay has this important message for his fans. Thanks so much anna!," tweeted Siddharth
"Thanks Ilayathalapathy Vijay for the words," said Prithviraj on his Facebook page
"IlayaThalapathy Speech about Kaaviya Thalaivan Movie. Thank u so much Ilaya thalapathy for such a heart warming gesture & your kind words...truly touched!! Respect!!!", wrote Vedhika.
However, it was not just Vijay who was floored by "Kaaviya Thalaivan'. Many celebrities including Karthik Subbaraj, Shanthnu Bhagyaraj, Dhananjay Govind and Udayanidhi Stalin have appreciated the film.
Read Twitter Reaction from Some of the Celebrities below:
"#Kaaviyathalaivan,a classic that time travels you to the world of 1930's stage artist's world.Awesome film!! Hats off vasanta balan sir!! #Kaaviyathalaivan had superb performances by all artists, @Actor_Siddharth ruled the show with his best performance till date!! Fantastic!!" - Karthik Subbaraj
"#KaaviyaThalaivan 'Must' watch. fantabulous effort frm @vasantabalan sir & @lionheart_ps @Actor_Siddharth @Vedhika4u u guys killed it :-) #KaaviyaThalaivan of course ARR sir , it was so nice to see him back in a contemporary Tamil cinema with excellent RR and Songs," - Shanthnu Bhagyraj
"Folks, #KaaviyaThalaivan deserves to be celebrated at cinema halls for its TOP quality. Please watch in theatres & NOT in DVDs/Cable/Online" – Dhananjay Govind
"#Kaaviyathalaivan A colorful film! Super effort by the whole team ! Congratz ! Do watch it in theater!" – Udhayanidhi Stalin