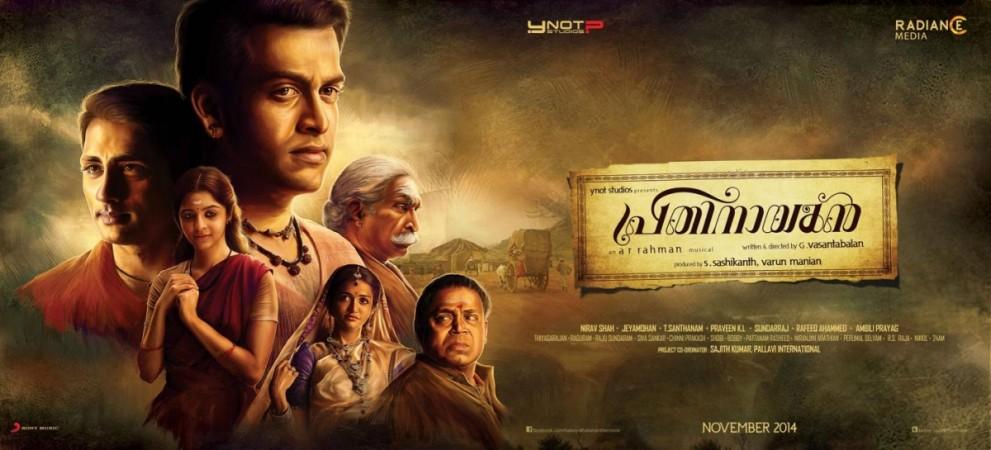 Siddharth-Prithviraj's "Kaaviya Thalaivan" (aka "Kaaviyathalaivan") has received positive reviews from the critics.
Directed by Vasanthabalan, "Kaaviya Thalaivan" is a historical drama with Siddharth and Prithviraj playing the lead roles. The film also has Nassar, Vedhika, Anaika and Thambi Ramaiah as part of the film's cast. The multi-starrer has hit the screens on Friday nearly after two years. There are huge expectations, thanks to the impressive trailer and the songs, composed by AR Rahman, which has turned out to be big hits.
The historic fiction drama is reportedly based on the lives of 20th century drama artistes in pre-independent era. The film revolves around two artistes - Kaliyappa Bhaagavathar (Siddharth) and Gomathi Nayagam Pillai (Prithviraj). It deals with various emotions including romance, ego, jealous and deception.
"Kaaviya Thalaivan" has received good reviews from the critics, but whether the film will manage to bring in crowds to theatres is something one needs to wait and watch.
Critics have appreciated the performances of Siddharth, Vedhika, Nassar and Prithviraj. Rahman's music is one of the major highlights of the films. On the flip side, the film is let down by weak script, said the critics. However, they appreciated director Vasanthabalan's efforts in making a historic fiction drama.
Check below the review round-up of "Kaaviya Thalaivan"
"Vasanthabalan's phenomenal amount of homework and research done in scripting and etching the backdrop is evident in every single frame. Thankfully, Vasanthabalan has also kept himself in check by not getting over-melodramatic as seen in his previous movies. The story and dialogues by Jeyamohan are sharp, efficient and focused," stated MovieCrow.
"'Kaaviya Thalaivan' really is a meticulously laid out drama, polished in the story and perfected in each frame, for a classic entertainer for all, and especially for those who have a taste for retro," according to Indiaglitz.
"The film is a must watch for the sincere effort from the team to make a simple film in an interesting period backdrop. If you want to experience some genuine acting, then watch Kaaviya Thalaivan," according to Cinemalead.
"The real man behind this kaaviyam is Vasanthabalan, perfect screenplay, sid and prithvi characterizations is brilliant. He has handled a thin subject with real care from start to end. No lag at any comments. Interval block conversation between sid-nasser and climax conversation between sid-prithvi are clapworthy. Kudos to the team. Definitely a different experience. Don't miss the film!" said Christopher Kanagaraj of Studio Flicks.
"Siddharth has given an awe inducing performance, flooring us with his charm and varied range of emotions. Prithviraj plays the grey character with conviction and provides the much needed conflict in the film. Vedhicka proves that her performance in Paradesi was no fluke," according to Subramanian Harikumar of Bollywoodlife.
"Vasantha Balan's "Kaaviya Thalaivan" is a lovely throwback to the 1930s drama era but is somewhat let down by a tepid writing. The film is visually ambitious and highly sincere with gorgeous production values. It's is cocktail of rivalry, friendship, betrayal, ego and love built on that cornerstone of an actor's dream , appreciation. "Kaaviya Thalaivan" is definitely earnest in parts, but to call the end result an absolute triumph would be an overstatement," stated Surendhar MK of OnlyKollywood.
"#KaaviyaThalaivan a tale of friendship versus ego sincerely captured against the backdrop of a drama troupe. But writing is a big letdown," stated Haricharan Pudipeddi, an entertainment journalist at IANS. "#KaaviyaThalaivan works only in parts like Rahman's music. But Kudos to Vasantabalan's sincere effort to try something offbeat," he said.
Verdict: Sincere efforts by the "Kaaviya Thalaivan" team makes it worth watching