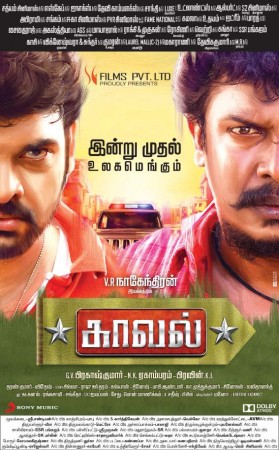 Tamil movie "Kaaval", starring Vimal and Samuthirakani in the lead, has opened to average reviews by critics.
Written and directed by Nagendran R, fans had high expectations for the movie but the critics stated that the film is not even close to what they had hoped for.
"Kaaval" is based on a true story and deals with a police force that is burdened with corruption and inefficiency, which is not a new concept, according to the critics.
The major positives of the movie include actor Samuthirakani's performance. Some of the technical aspects of the film have also managed to impress the critics.
The major drawback of the movie is apparently the execution of the story by the director and the loopholes in the plot that it a passable flick.
Here are the reviews of "Kaaval" by various critics:
Here in R Nagendran's Tamil work, Kaaval, Chennai's police force -- at least a part of it -- is presented as utterly corrupt and incompetent. One is not debating the veracity of this image, but just that Kaaval (which incidentally means police) has not got the city's cops fuming.
Nagendran's feature has really nothing new to offer. We have seen innumerable movies about paid killers and their unholy camaraderie with the guardians of law and the representatives of the people. A voiceover tells us at the start of the film that murder has become a profession in Tamil Nadu. A murderer has no motive other than money, and kills because he is paid a handsome amount to spill blood
It won't be an overstatement to say that Samuthirakani has carried the film on his shoulder. He has proved that he is no inferior as a hero in enacting stunts, dialogue delivery and expressions. And thank god the director did not force anything in the script to support his hero image. He does not even have a love interest in the film.
There is nothing challenging for Vemal in this film as he comes across as a careless and selfish youngster. 'Punnagai poo' Geetha (also the producer of the film) is passable as a heroine. M.S.Basker is at his usual best as a carefree and corrupt police officer who falls at the feet of criminals for bribe and a caring father who fears for the life of his son. Deva as the ruthless villain has utilized the opportunity to become a prominent face in Tamil silver screen.
Debutant director Nagendran's "Kaaval" grabbed the eyes of the film buffs when the team presented the trailer with an absorbing idea few months back. But the energy and excitement have gone astray with the film, which revolves around contract-killers and a righteous, principled cop played by Samuthirakani, who shines in his role with a solid, savior-like performance. Infact, it wpuld only be appropriate to call him 'the lead hero' of the film. Not Vemal, who mostly slpeep-walks in his role that demanded life and enthusiasm