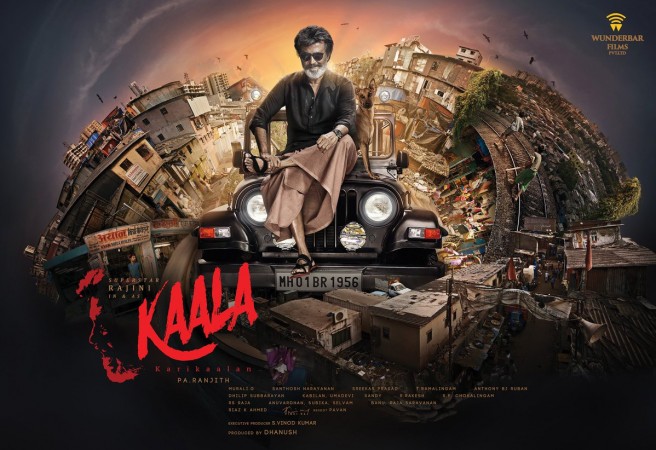 Rajinikanth at his best again. The Tamil superstar's Kaala teaser has been unveiled on Friday, March 2 and it has met with stupendous response. His mannerisms packed with punch dialogues has impressed the viewers.
The clip begins with Nana Patekar mouthing the dialogue – Kaala, kaise naam hey re? (Kaala, what sort of name is it?) And the answer is - Kaala means black. Kaala means the God of Death. One who fights to protect.
It is a 1.17-second video that is centered around Rajinikanth's character. The superstar thrills the viewers with his style, dialogues and electrifying screen presence. [Watch Video]
Here is how the netizens responded to the teaser:
Naveen kumar: #KaalaTeaser hope the editor hasn't put all the best shots and make our expectation go high and disappoint in the movie like kabaliteaser #kaala looks promising with typical rajinism and mass story,nanapatekar looks great as a villain to the #superstar kya re setting uhh ?
ThalapathyRAJAN: Perfect Teaser ! Not Over Hyped ! Theatre la paaakum pothu Above Avg ah irunthalae pothum ! Collections Therikum Anyone Knows Who is leading to grab TK Area rights ?? #kaala @akshay14793 @Banned_tweeter
Dashran Yohan: #Kaala teaser looks pretty damn kickass, but I'm not a fan of Santhosh Narayanan's soundtrack/score. His music is too 'young' and heavy. It doesn't scream "aged gangster." And it's so loud... loud for the sake of being loud.
Anandhi Ajay: Waking up to witness #Thalaivar 's #MaranaMass #Kaala
That Charm!!!!, will remain forever wit our style samrat✌️✌️#KaalaTeaser
Kaushik LM: #KaalaTeaser - adrenaline pumping stuff with the evergreen mass hero #Superstar #Rajinikanth who rocks with his fiery energy, punchlines and the terrific karuppu / kaala jibba. #Kaala .. BO opening records are sure to be rewritten .. Happy stuff! @beemji
Rocking @Music_Santhosh with @iamyogib to add all the pump and josh. The Kabali-like whistles are hard to miss. So much fun, this teaser is.. #KaalaTeaser #Kaala
At 67, #Rajini sir is just incredible with his action, trademark punchlines & screen presence
The Mumbaiya Hindi
"Kaala, Keisa Naam Hai Rey?"
"Kyaa Rey, Setting ah?"
The Nellai Tamizh: "Vengaimavan Othaila Nikken, Dhillirundha Mothama Vangaley!"
Surendhar MK: #Kaala teaser is here https://www.youtube.com/watch?v=Wm_vSSlVsV4&feature=youtu.be ... #KaalaTeaser
A #Rajinikanth film teaser which also gives importance to other characters like #NanaPatekar.
That swag. That charm of #Superstar. Always a blockbuster combo!
ADITYA PAVAN KUMAR: This is the best teaser@Rajinikanth attitude and acting are everest.
@dhanushkraja #SantoshNarayanan music and BGM are good too.
Watch this treat for this holi
#KaalaTeaser #Kaala
Karthik Swaminathan: #Kaala teaser seems to be an old wine in a new pack!! Liked Rajinikanth's charisma but the BGM drops!!
Sreedhar Pillai:#Kaala teaser vintage @superstarrajini in his elements pitched against the bad guy # NanaPatekar - sparks are bound to fly
Related