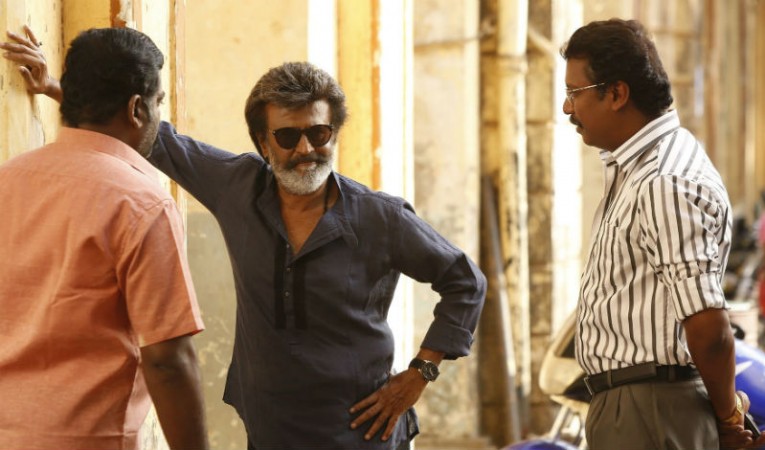 The teaser from Rajinikanth's Kaala has garnered over two million hits on YouTube in less than 10 hours. The promotional video from Pa Ranjith-directorial movie was unveiled on March 2.
What is the teaser all about?
The promotional video revolves around Rajinikanth's character in Kaala and gives an outline of the content of the movie. The superstar is seen in stylish avatars, mouthing punch dialogues and taking on his rival.
The superstar plays the title role and a gangster. The clip begins with Nana Patekar mouthing the dialogue – Kaala, kaise naam hey re? (Kaala, what sort of name is it?) "Kaala means black. Kaala means the God of Death. One who fights to protect," Samuthirkani's voice tells about the hero in the film.
The fans of Rajinikanth have enough reasons to cheer as Rajinikanth enthrals them with his electrifying screen presence. The way he mouthes punch lines (like: 'Black is the colour of the working class. Come to my chawl, dirt will appear colourful') will leave his fans spellbound.
Kaala is a Sanskrit word with two meanings — one refers to someone dark-skinned, and the other means time, death, destiny or fate. The word is also used to refer to Yama, the Hindu god of death.
It seems Rajinikanth's character might have the quality of Yama and create the fear of death in the minds of those who are engaged in unlawful activities. Notably, Karikaalan was a popular Chola king.
Kaala marks the second union of Pa Ranjith with Rajinikanth after Kabali. The flick has Santhosh Narayanan's music, Sreekar Prasad's editing and T Ramalingam's art direction.
Huma Qureshi will be seen as the female lead in the film, while Samuthirakani is set to enact an important role in the flick, produced by Dhanush under the banner of WunderBar Films.