Sivakarthikeyan's "Kaaki Sattai" aka "Kakki Sattai" is directed by RS Durai Senthilkumar. The movie has hit the screens in India on 27 February.
"Kaaki Sattai" had generated a lot of buzz through its trailer and audio. Importantly, the association of Dhanush as producer has added good value to the project.
Prabhu, Vijay Raaz, Manobala, Vidyullekha Raman, Imman Annachi, Kalpana, Nagineedu and others are in the cast with Sri Divya playing the female lead role.
Anirudh Ravichander has composed the music, M Sukumar has handled the camera and Noor Azwan has taken the responsibility of the editing department.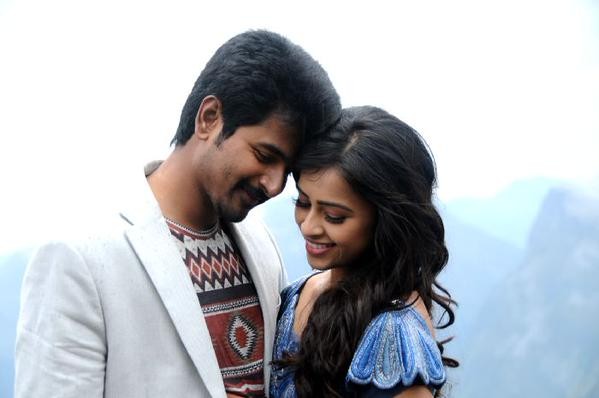 Audience Reviews:
"Kaaki Sattai" has opened to positive reviews. People, who have already seen the Tamil movie, has given good response to the film even though it is said that the Sivakarthikeyan's movie is a regular masala movie.
It is a usual do-gooder cop's story and one cannot expect something new in the subject. Nonetheless, the film can be enjoyed by all sectin of audience as the story is laced with action, romance and comedy.
Below, we bring you the live comments posted by the audience:
Sandheep Shanmugaraj Tweeted
#KaakiSattai : TOP CLASS BGM
#KaakiSattai First Half : Entertaining, Engaging & Super Cool . Hero SivaKarthikeyan or Anirudh? Haha Therii Mass !
#KaakiSattai : A Pakka Tamil Cinema Commercial film which will not attract all type of audience. But will surely like Family Audiences
Anirudh & RS Durai's Main Plot are the most gripping one's. All commericial elements were mixed with usual mass masala!
Kaushik Lm Wrote
#KaakiSattai has been seen. Definitely not up to my expectations. Comedy takes prominence here, and that too works only in parts Review soon
Sreedhar Pillai Posted
#KakkiSattai – 3/5. Time Pass. Essential commercial elements has been packaged 2 give @Siva_Kartikeyan a new image and he does a neat job.
#KakkiSattai 3/5.@Siva_Kartikeyan made a smooth transition from his comedy laced characterisation 2 an action hero & not gone over the top.
#KakkiSattai – 3/5.Vijay Raz is ur regular Mumbai villain, while Sri Divya is passable. Liked Prabhu & Imman Annachi, camera of Sukumar.
#KakkiSattai -3/5. @anirudhofficial music & BGM is one of the major highlights of the film. My pick 'Kadhal Kan Kattudhe ...' & title song
#KakkiSattai – Downside - plot is outdated & comedy scenes not worked out as well as @durairsk earlier #EthirNeechal.
Dinesh Wrote
#KaakiSattai- A better start for Sivakarthikeyan as a mass hero. He has got that screen presence to attract audience, long way to go!
#KaakiSattai interval - The craze has never gone down for this man. ULAGANAYAGAN! Roof down for #UttamaVillain trailer.
#KaakiSattai interval - Except the rain fight, Siva has just imitated what the director said. He needs little more to be of his own.
#KaakiSattai interval - Amazing response for SK. Half the crowd here are boys and girls who bunked their college.
#KaakiSattai interval - Entertaining first half with good mix of comedy, action and thrill. Rain fight will be one step forward for Siva.
Stereophonic Sanata Posted
#Kaakisattai-@Siva_Kartikeyan 's launchpad to become an Action hero. Fails in it but the comedy Siva shines very much.Watchable once(2.75/5)
#KaakiSattai - Siva as action hero has a long way to go.Lacks the screen presence. But he makes up for it with his style comedies.
#Kaakisattai - The biggest plus of the movie are Comedy scenes and Anirudh BGM.Both have worked well.Infact saves the movie.
#Kaakisattai - Sridivya looks cute and adorable but goes missing in 2nd half.Her dance in Kattikida is going to get her even more fans
#Kaakisattai - Songs are okay but misplaced.Kattikida song is a scream in theaters.Both Siva and Divya rocked in it.
#KaakiSattai - Director durai has failed in exection.He dono whether to take the movie in serious or comedy note.Gets too much bad atlast
#KaakiSattai - Siva action scenes are not that good.He dint fit in those like Ajith - VJ does.Logic is almost zero in the movie.
#Kaakisattai - The way Siva and team unties the knots is very much logicless and could have been written interestingly.
#Kaakisattai - Siva is very comfortable in rural side outfits and scenes than these.Witness it in Kattikada song.He rocked in that song
#Kaakisattai - Above all these +ves and -ves the film is not boring at any point of time.The biggest plus of the movie is this one.
#Kaakisattai - @Siva_Kartikeyan 's mass has reached another level.Felt like watching an Ajith-Vijay movie.Crowd puller indeed !!
#Kaakisattai - On the whole you will like this movie if u dont mind logicless mass entertainers. Surely watchable once for comedy and music.
Thushy Sn Wrote
#KaakiSattai - Comedy and some romance, Siva's template first half. The movie takes off only 10mn before the interval.
"Pasangala Matha Pakkadhenga.. avanga ungala mathithu poydhe irupanga !"
#KakkiSattai - Template Siva's movie with some masala elements . Provides lesser entertainement than SK's previous movies.
#KaakiSattai Lacks seriousness on the 2nd part. One time watch. Another crowd puller for Dhanush as a producer. Anirudh is good as usual.
#KakkiSattai - Loved Sukumar's presentation, i think the bigger budget than Ethir Neechal helped to provide some great productions values
#KakkiSattai - Siva Karthikeyan has done an honest attempt to change from his routine. KakkiSattai has some serious moment too
Overall, the movie lacks seriousness when the screenplay it requiers that. #KakkiSattai
#KakkiSattai has a better opening than #Anegan. With 350 admissions with the premiere show itself.
Fab Flickz @FabFlickz Wrote
'@Siva_Kartikeyan as cop 'Mathimaran' did 100% justice to the role, emotes well in serious scenes
#SriDivya does a neat performance. Her dance for 'kattikada' is superb. A delight to watch her.
#KaakiSattai - Prabhu, Kalpana & Imman annachi did their part well. Villain looks fresh and delivers a good performance.
Anirudh's music boost the film to next level, esp the rain fight & pre-clilmax railway station scene BGM's
#KaakiSattai. Songs are visual delight. Very good cinematography by Sukumar. Editing & VFX could have been better.
The #EthirNeechal duo is back with #KaakiSattai. Thou old wine in new bottle, the presentation is too good.
No overdose of action seq or punch dialogues. @Siva_Kartikeyan's strength is best used in #KaakiSattai.
#KaakiSattai - Usual entertainer with refreshing casting & well executed screenplay makes it a 'HIT Material' Our rating 3/5.
Narayanan Posted
#KaakiSattai Worst and Bad Subtitles.Please don't screen with this subs @Madan2791 @Siva_Kartikeyan @rameshlaus @rekhshc @dhanushkraja
#KaakiSattai 1st half so far.Songs are big yawn.Weakest link of the film.Comedy works in parts.Better than #MaanKarate 1st half
#KaakiSattai Interval Finishes on high note.Pre interval and Interval block rocking.@anirudhofficial BGM superb.Rain Fight Thaarmaar
#KaakiSattai Interval Fight cheorography apt for @Siva_Kartikeyan Realistic.@anirudhofficial BGM has taken the movie to another level
#KaakiSattai VFX s really bad and frustrates @dhanushkraja could have concentrated more on it.
#KaakiSattai Far better than #MaanKarate Hit fr @Siva_Kartikeyan
#KaakiSattai 2nd half goes in top speed.Pre climax,climax s average and could hve been better.Film average.Will b a hit for sure
#KaakiSattai Techincal depts like Editing,VFX are really bad.Big negative.@dhanushkraja
#KaakiSattai @Siva_Kartikeyan excels as honest cop and this film s definitely next step for him.#SriDivya looks good.Villian acting Gud.
#HaraHaraMahadevaki #selfie #twitter #ennamaipdipanreengalema #FB Latest Sensations mentioned in #KaakiSattai
@manobalam comedy good and bad.#vvs pair #Siva - #Sridivya chemistry superb.Sridivya costumes are good and looks like doll.#KaakiSattai
#KaakiSattai film s pact so u don't think f logic.Thin line btw comedy and action and director has excelled in it.
Siddhu Tweets
#KaakiSattai in a few minutes. The Sidhu Instinct tells me that this will be a good movie.
#KaakiSattai Interval: Usual commercial cinema with the cop angle added. Liking the dialogues and the music. Rain fight - gethu!
#KaakiSattai: Selectively entertaining. Siva does a Vijay, bringing you the old wine in a new bottle. A strict one time watch!
#KaakiSattai: There is comedy, songs, action and sentiment but the mixing is inappropriate. Siva, Ani and the dialogues save the day.
Shankar Tweeted
#KaakiSattai - Entertaining first half ,Siva at his usual best with his one liners and bgm takes the film to the next level.#sofarsogood
#KaakiSattai theri therikudhe,pori parakudhae, fdfs!!!Shankar instinct says this movie will be damn good!!! #excitement
Vikram C Wrote
#Kaakisattai 1st half- Rain fight semma! Dance,Comedy and action @Siva_Kartikeyan at his best! Tremendous screen presence!
Srianand Wrote
#KaakiSattai - Average movie(2.25/5) but good try from Siva as action hero. General audience ah paakumbothu avlova impress pannala.
@Siva_Kartikeyan Hara hara maha devaki part in kaaki sattai is super and ur voice modulation is as same as swamiji!!
Jeguru Arumugam
@Siva_Kartikeyan as #mathimaran in #KaakiSattai beautifully done. The most awesome movie crafted. Wish you a #blockbuster hit brother.
@anirudhofficial @Siva_Kartikeyan ennama ipdi pinnithingale ma..@WunderbarFilms_ DNAS blockbuster wishes to you brothers