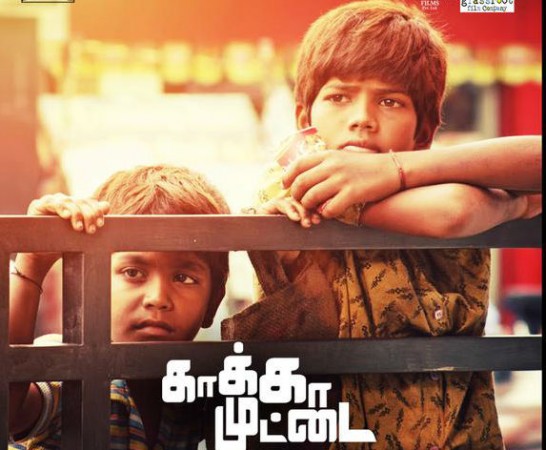 National award winning movie "Kaaka Muttai", directed by M Manikandan and co-produced by actor Dhanush, has made an impressive debut at the box office.
According to trade analyst Sreedhar Pillai, the movie earned ₹90 lakh in Tamil Nadu, commendable considering the limited number of screens offered to the movie.
"Kaaka Muttai" was released in 170 screens all over India, out of which 109 screens are in Tamil Nadu. The initial start and the excellent online promotion helped the movie to draw audience to the theatres. The movie is therefore assured of packed houses during the weekend in Chennai.
Sreedhar Pillai has also tweeted that the huge demand for the tickets has resulted in an increase in the number of shows in almost all major theatres in Chennai.
"Kaaka Muttai" is a children's movie and has Ramesh, Vignesh, Iyshwarya Rajesh, Ramesh Thilak and Babu Anthony in lead roles. Silambarasan and Dhanush have done guest appearances in the flick.
G V Prakash has composed the music of "Kaaka Muttai". Cinematography is by Manikandan and editing by Kishore Te.
"Kaaka Muttai" had recently won National Film Awards for Best Children's Film and National Film Awards for Best Child artist.
#KaakaMuttai in 170 (109 in TN) screens in India, takes a star film opening. Terrific pressure all over 2 get tickets 4 weekend. Sold Out!

— Sreedhar Pillai (@sri50) June 6, 2015
#Mayajaal programming today - #KaakaMuttai from 20 shows y'day jumped to 30! #Premam jumped from 4 to 10 shows today ! Rocking! — Sreedhar Pillai (@sri50) June 6, 2015
#KaakaMuttai Friday TN Gross = Rs 90 lakhs from 109 screens. PHENOMENAL ! A film with limited release in small screens, huge. Congrats all

— Sreedhar Pillai (@sri50) June 6, 2015