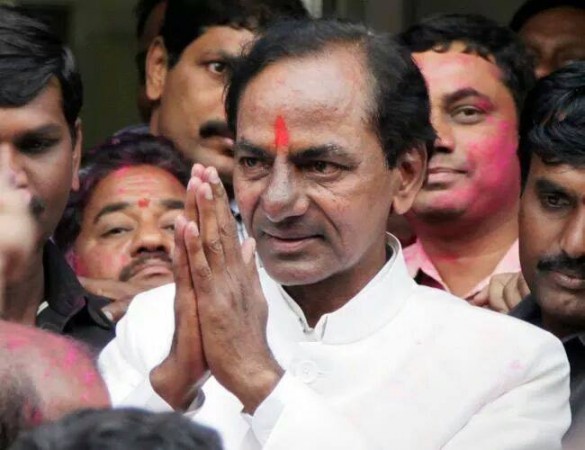 Telangana Rashtra Samithi (TRS) president K Chandrasekhar Rao will be sworn in as the first Chief Minister of the newly formed state of Telangana on Monday (2 June).
KCR will take oath of office along with his council of ministers at Raj Bhavan, Hyderabad at 8.15 am. E.S.L. Narasimhan, who will be sworn in as the Governor of Telangana at 6.15 am on Monday, will administer KCR and his cabinet ministers' oath of office.
Watch Live
KCR's swearing-in ceremony is expected to be telecast live on several regional television channels including TV9 Telugu, Studio N, ABN Andhrajyoti, Sakshi TV and Gemini News among others.
The ceremony will also be live streamed online. ABN Telugu is covering the event of KCR and his ministers taking the oath of office live online from 7 am onwards. To watch the live video, click HERE.
The ceremony is also likely to be live streamed on the official website of the TRS party - http://trspartyonline.org/live-tv.
After the swearing-in ceremony, KCR will attend the official celebrations of Telangana Formation Day at Parade Grounds in Hyderabad.
KCR's Cabinet
A strong team of 17 to 18 members of the cabinet will also be sworn in on Monday. Speculations are rife on who all will be in the council of ministers under KCR. Several leaders including T Harish Rao, Jagdishwar Reddy, Padma Devender Reddy, Etela Rajender, Nayani Narasimha Reddy (MLC), Pocharam Srinivas Reddy, P Mahender Reddy, Jogu Ramanna, Jupally Krishna Rao or Laxma Reddy, T Padma Rao, KT Rama Rao, J Venkat Rao, Swami Goud (MLC) or Srinivas Goud and Konda Surekha are reportedly under consideration to be part of KCR's cabinet.
Rumours are doing the rounds that Etela Rajender or Nayani Narasimha Reddy could get home ministry. Buzz is that senior IAS officer Rajiv Sharma is likely to become Chief Secretary of Telangana. Anurag Sharma, who is currently holding the post of Hyderabad Police Commissioner, is likely to take over as DGP in Telangana, reported Deccan Chronicle.
Narsinga Rao and Shivdhar Reddy will reportedly be posted as Principal Secretary and Intelligence IG, respectively.
There are also reports suggesting that KCR is planning to have two deputy chief ministers - one from Muslim minority and the other from the SC community. MLC Mohammed Mahamood Ali is expected to be one of the deputy chief ministers, while MLA Koppula Eshwar might be the other.