K Balachander, who has been hospitalised, is on the road to recovery and is said to be responding well to the treatment and showing signs of improvement.
The veteran was taken to Kaveri hospital in Chennai on Monday (15 December). K Balachander was suffering from urinary tract infection, and had also developed some age-related ailments and fever.
The hospital authorities in a press release claimed that he was critical, but his general condition was stable. The latest reports say that K Balachander's health is showing considerable improvement and he has regained his consciousness.
"This is the third time that he has been admitted with us and though he was very weak after his surgery last month and his infection now, he has really improved now. Our team is committed to making his get up and walk again soon," a source informed the New Indian Express. However, the legendary filmmaker is still in the ICU (Intensive Care Unit)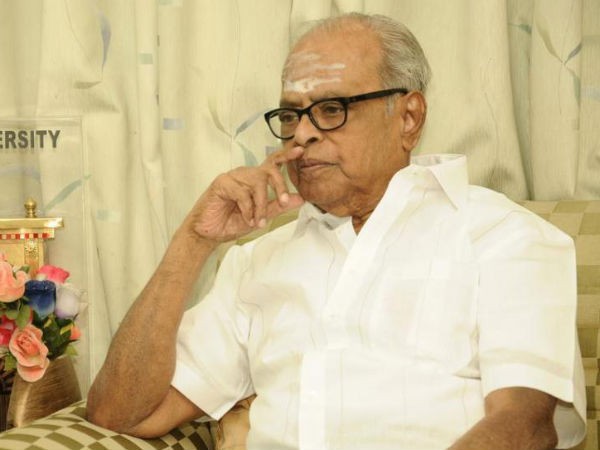 Actor Vivek too has said that K Balachander is recovering and requested people not to spread rumours about the director's health. "Just coming out of hospital.Our legendaryDir.KB sir is showing signs of improvement.Our prayers will bring him bk. Plz don't believe rumors," he posted on Twitter.
Meanwhile, a photo claiming to be of K Balachander at the hospital is doing rounds on the social networking sites. However, sources say that it is an old photo and not the latest one.
Celebrities have been visiting the hospital to enquire about K Balchander's health one after the other. Rajinikanth, Khushboo, Vivek, Ramesh Aravind, Manobala and many others have visited the hospital.
However, Kamal Haasan, one of the protégés of K Balachander, is in the US but has posted a video on YouTube expressing his hopes that the director would return to good health soon.